It's possible that he's afraid of making a commitment to you. This isn't a criticism of you; rather, it's a reflection of his time of life.
Many people of both genders struggle with the thought of committing to just one person, whether it's because they don't want to be tied down, are afraid of letting down their guard, or are afraid of letting down the other person.
If he says he's not sure, it's possible he hasn't noticed he has commitment concerns.
He's scared of his feelings.
If he says he's not sure what he wants, it doesn't necessarily indicate he's not interested in dating you or considering a relationship.
It's possible that he truly, really likes you and is feeling overwhelmed. Perhaps he's never experienced this emotion before and is unsure what to do with it or how to express it to you.
What does it mean when a guy says he doesnt know what he wants?
He could be implying that, deep down, he isn't quite ready. This could be for a variety of reasons.
Maybe he's just broken up with someone else. Perhaps he's been dealing with issues at work, with his family, or with his mental health, and isn't in the appropriate frame of mind to start a new relationship right now.
He's just not that into you.
This is a method that a guy may employ if he just does not care for you. They like you enough to keep you around until someone better comes along, but they're not in the mood for things to move forward.
What to do when a man is confused about what he wants?
Do:
Give him a chance. You'd know if he'd decided to call it a day if he'd already made up his mind. However, if you believe this is a phase (as it most likely is), give it some time.
Allow him some breathing room. Allow him to organize his thoughts while also allowing him to miss you.
How do you know if he doesn't know what he wants?
When someone continues to date other people while dating you, it's a clear sign that they don't know what they want in a relationship. (Don't be fooled by the guy who claims to be polyamorous but refuses to commit: ethical polyamory necessitates a great deal of commitment from numerous individuals.) It's not an excuse to sleep with anybody you want.)
He's keeping his options open by continuing to see other women while unsure of what he wants in a relationship with you. He has no idea what he wants, therefore he gets everything he could possibly want. If you're bothered by his conduct but think it's possessive to ask him to stop, you're putting his feelings ahead of your own. If you worry you'll lose him if you declare you want to be exclusive, it shows you're prepared to put up with misery in order to be with someone who doesn't even value your time.
Too many of my friends have persuaded themselves to give everything to men who have no idea why they want to be with them. It's something I've done as well. The more you offer, the more confident you are that you will be able to demonstrate your worth to them. The power dynamic is all over the place.
But consider this: If you were content and loved, you'd have nothing to prove.
When a man is unsure of his feelings?
It's obviously perplexing for you, and it's because he's perplexed as well.
He might even "zombie" you, disappearing for a date or two and then reappearing as if nothing happened.
He's recently been through a bad breakup and is still shook
One of the most telling symptoms that a man is undecided about his love for you is if he's preoccupied with the termination of a previous relationship.
Even if your partner denies that his moodiness is related to his ex, consider how long ago he and his ex broke up.
If it happened recently, there's a strong possibility it's still bothering him.
"If he's been through a painful break-up or divorce, he may be guarding his heart to avoid going through it again.
"This is perfectly normal; it's simply his past that makes him fearful of what's to come," Abigail Boyd of Better Help writes.
He avoids talking about the future with you
Because this unsure individual entirely avoids the nuclear exclusion zone around Chernobyl, the future could as well be the radioactive exclusion zone around Chernobyl.
He won't even consider it, and whenever the subject is brought up in any way, he becomes red and strange.
"If he's unsure about his sentiments, he'll always find a way to back out of any future occasion with you."
Why does he keep me around if he doesn't want a relationship?
Those places and times are left vacant when you are no longer together, and they might be tough to fill.
If your guy says he wants to spend time with you but doesn't want to be in a relationship, it's usually because he doesn't want to give up the routines you've built together.
If your boyfriend keeps you around, it's possible that he can't change those patterns because they've gotten so embedded in his life that he can't let them go.
As a result, he refuses to let you go, leaving you puzzled and upset.
What is a Situationship?
It might be difficult to determine the nature of your connection when you are just getting to know someone or sleeping with them. Are you not quite serious but on your way to becoming more so? Are you in a friends-with-benefits relationship where you've agreed to put your differences aside? Or are you stuck in a state of limbo that leaves you perplexed? You may be in a situationship if you are unsure about your relationship status with another person. A situationship is a romantic relationship that isn't defined. A situationship, unlike a friendship with benefits situation, can entail feelings, but the terms of the connection and the partnership's final objective are not stated.
It's critical to understand the warning symptoms of a situationship so you can spot one sooner rather than later. Understanding your relationship's position as a situationship will assist you avoid putting too much emotion into it.
Is he ready for a relationship?
Men are notoriously less open with their emotions than women are, and they are generally more restrained when discussing their sentiments, past relationships, and current challenges. A man is ready for a relationship when he has reached an emotional maturity level where he recognizes the necessity of creating intimacy via communication – he wants to let you into his inner world and isn't worried that you will judge him as weak if he admits that he hurts. After sex is one of the most private times for a man; if he wants to cuddle up and talk, he is more than simply casually dating you.
Another essential component of this is when a man wants to bring you into his life by showing you around his house and introducing you to his family and friends. All of this signals that he wants to create a deeper relationship with you rather than keep things casual.
He is affectionate as well as sexual
Wanting to have sex with a lady isn't always a sign that you want to be in a relationship with her. Physical desire is frequently misinterpreted by women as a sign of growing emotional connection. Even if your sex life is off the charts, if only one portion of a man's anatomy is interested, the rest is unlikely to follow. Hugging, holding hands, kissing, and other non-sexual displays of affection give a much greater indicator that he is ready for a relationship outside of the bedroom.
His friends are primarily people who are in relationships
Men are more likely to engage with people who match their beliefs, so if their closest friends are in stable, committed relationships, it's a strong sign he's ready for that as well. If he's still hanging out with his buddies, acting carelessly, playing sports, and leading an active bachelor lifestyle, he might not be ready to give it up just yet. Most guys will have a mix of the two, but you'll be able to see where his greatest attachments are and whose ideals he shares as time goes on. Avoid being seriously involved with someone you believe has the 'potential' to calm down and commit to a committed relationship — you must accept someone for who they are now, not what you believe they could be if you pushed them in the correct direction.
He is over past relationships
The most telling sign that a man is ready for a new relationship is that he isn't bitter or cynical about women, commitment, or relationships. He may take a critical look at what happened and determine where he went wrong rather than blaming his ex-wives, his mother, or women in general for the failure of previous relationships. He will pay attention to you and get to know you as a person, as well as explore your connection without prejudice.
Is he hiding his feelings from me?
He's paying attention to you if he's always making strong eye contact. However, because there's another more subtle hint in the stare, it can be tough. If you find him hastily turning away every time you look at him, it's one of the telltale signals he's disguising his genuine sentiments.
How To Capture His Heart And Make Him Fall For You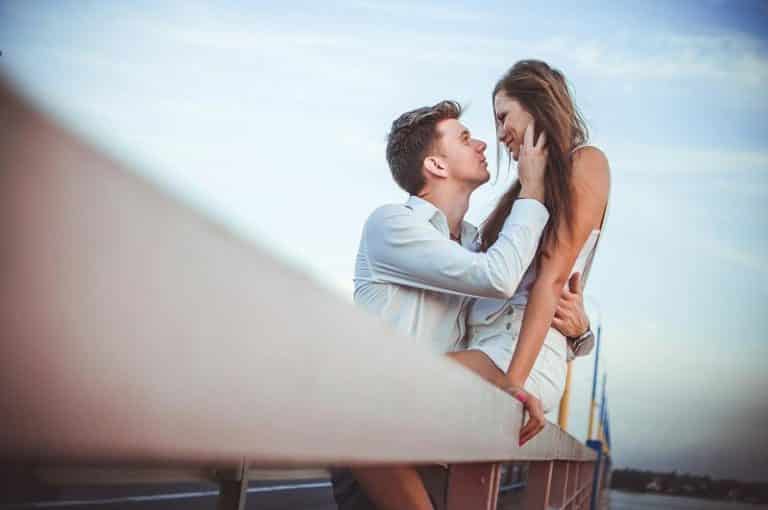 Here's what we've realized after so many years of experience as dating coaches:
It's really easy to make men fall for you once you know the "cheat code".
See, most women don't really know how men think, and why they act the way they do…
In fact, they go through their whole life never meeting the perfect guy who treats them right.
Don't let this be you!
We've taught thousands of girls around the world the special "cheat code" to a man's heart.
Once you learn the truth about how the male mind works, you can make any man fall in love with you.
Here's how it works:
There are special tricks you can use to target the "emotional triggers" inside his mind.
If you use them the right way, he will start to feel a deep desire for you, and forget about any other woman in his life…
The best part? These techniques are based on psychology, so they work on any man, no matter how old you are or what you look like.
To learn about these simple techniques, check out this free eBook NOW:
As women, we understand how you feel.
But no matter what other people say, always remember:
You are an AMAZING woman…
And you deserve an amazing man who loves you, respects you and treats you special.
So start using these special techniques today, and see how quickly men fall in love with you immediately!
---
More FlirtSavvy Articles
Your boyfriend or girlfriend has expressed their want to end their relationship with you and no longer be romantically involved with you. You probably came on this page by looking for information on how to get your ex back or viewing one of my YouTube videos. You probably read or heard to me propose the No Contact Rule when you went to war to get your ex back. No contact with your ex, on the other hand, may have struck…