When you hear the words "husband training" for the first time, it sounds strange. Most people believe it will begin with a punish-your-husband movement. This is not the case, since it requires you to give it your all in order to get the most out of your husband.
The truth is that in order to have a well-trained husband, you must first grasp how they think. They were trained by a mother, whose effect is still felt now, before marrying you. Men also tend to gravitate toward their sources of happiness, and they react in the other direction.
This reaction could take the shape of things that harm you and cause you to react. The drive to control spouses then becomes a vicious spiral of poisonous reactions. These men, on the other hand, can eat off your palms. Although your husband is not a dog, we will show you how to train him.
Dress up especially for him
You should remember that everyone wants to look their best in front of their lover. Even if there is no occasion and you are just going to the mall or grocery shopping, make an effort to dress appropriately.
Wear attractive clothes to grab his attention and show him that you have groomed yourself specifically for him. I'm hoping you have your LBD and sultry choli with chiffon saree on hand.
How can you tell if your husband is content? You'll know when he can't take his gaze away from you.
Work on the romance
Because of all the obligations on your shoulders, romance frequently takes a back seat after years of marriage. This is reasonable, but you must always strive to keep the passion and love in your marriage alive; only then will you both feel connected and your relationship will become stronger over time.
If you want to make sure your spouse is happy and content, light some candles when he gets home from work, arrange some home design, and go on a trip together. On Sundays, stay in bed late, binge-watch Netflix, or simply go for a late-night walk while holding hands. All of these actions will make your husband happy and content.
Give priority to sex life
When your family responsibilities grow and you have children to care for, you often forget about your man's sexual demands and put your sex life on the back burner. Keeping the romance alive in a blended family can be difficult. Remember, your man doesn't require your physical presence at all times, but keeping your sex life fresh and exciting will go a long way toward making your partnership worthwhile.
Get together in the bath and light some scented candles, go on sexcations, and research new poses and sex gadgets. You can't let sex fade away when your responsibilities take precedence. Be eager if you have to make your husband pleased – it could be as simple as a kiss on the cheek or a furious session between the covers. However, give him the impression that you want it.
Give him some personal space as well
Sure, he's your husband, and he's yours alone. He does, however, require some personal space and time from time to time. Keep an eye out for indicators that he wants some space, and never disturb him for things that he doesn't need when he needs peace of mind.
Book that special corner table
You're aware that a fine eating establishment is pricey. However, you are aware that they serve the best wine and lobster, as well as having the most romantic corner table. Save up if necessary, stop shopping for a month, and then take his breath away with a surprise reservation. When you see his expression, you'll be glad you did anything to make him happy.
Learn to cook that spaghetti with meatballs
Food is, after all, believed to be the way to a man's heart. You, on the other hand, were never a confident cook. Recipe books, as well as YouTube, are available. Serve the ideal spaghetti with meatballs, carbonara pasta, or just that aloo paratha, and you'll witness him licking his fingers at the dinner table. Making your hubby delighted with your food gives you a peculiar sense of satisfaction. Just have a look at it.
Appreciate him for anything he does for you
Whatever he does for you, large or small, appreciate it. Even if you only say 'thank you,' it will suffice for him. He would appreciate hearing words of gratitude from your mouth now and again because it demonstrates that you are aware of his attempts to keep you pleased.
Do not shy away from expressing your love
Kiss him, hold him, and snuggle with him every now and again. You can also send him lovey-dovey SMS messages to make his day more memorable. Another approach to communicate your affection for him is to send him videos of songs that are significant to both of you. Let him know how pleased you are to be married to him and how much you adore him.
Exude positivity and happiness
You are his soul mate, thus your happiness is incredibly essential to him. If you're unhappy, it'll show in your home, and he won't like it. When he comes home, try to welcome him with a grin. It is something he looks forward to on a regular basis.
Try to speak kindly
Talk to your hubby in a gentle and affectionate tone. If you are at home when he returns, greet him warmly and politely. Try not to speak too loudly or in an obnoxious manner. Your husband, on the other hand, should return with the same level of courtesy.
You should avoid speaking nasty things to him, especially after a long day, because it will irritate him.
Cheer him up
Husbands typically want love and affection from their partners after spending the entire day at work and returning home exhausted. Inquire about his day, his work, and create an environment that allows him to relax and care for your husband.
Sharing work tales is a terrific way to connect with others and share your day. If he's disappointed over not obtaining that promotion or raise, reassure him that you'll always be there for him. You can even bring out that bottle of wine to cheer up your husband when he is upset.
Respect his decisions
How can you tell if your husband is content? A happy person is someone who is in a relationship with mutual respect and support.
Always respect his decisions and be there for him when he needs you. As his responsible partner, you can chat to him and provide him important advise if he is unsure about his actions. Even if he is incorrect, attempt to assist him in understanding why his decision went wrong or what he could have done differently.
Be honest with him
If there's something about him that you don't like or something else that bothers you, approach him about it. A lack of communication is the most common cause of an unhappy marriage, which can lead to divorce. As a result, always attempt to be open and honest with one another.
Try love letters and sticky notes
Rekindle your feelings for him by writing him love letters or little love notes. Place them in his shirt pocket or anywhere else he can find them.
Small gestures like this will strengthen your marriage and make him happy. Place sticky notes on the refrigerator, laptop, and television to watch how they affect him.
Take interest in his hobbies
If he enjoys sports or dancing, then join him in these activities. It will improve his emotions and serve as a connecting activity for you both if you show interest in his hobbies.
Outdoor activities and going to the gym together can be beneficial to you as a relationship and can also make your spouse happy when he's upset. Exercising releases endorphins, or happy hormones, which are certain to make you joyful and bring you closer together.
Make his family your family
His family is very important to him. He will feel liked and cared for if you make an attempt to build a bond with his family. Take your in-laws out to dinner and try to socialize with them as often as possible since your husband would appreciate it. Keep in touch with his brothers and relatives, send them gifts, and phone them on significant occasions.
He'll be overjoyed to learn how much you care. You're now one of them, therefore he'll appreciate your efforts on behalf of his family.
Do household chores together
When it comes to home tasks, it's sometimes a good idea to share the load. Don't constantly telling him he shouldn't do something. Allow him to assist you in his own special way, and watch his face light up with delight. He will feel more attached to you if he has the opportunity to assist you at home.
Cooking together is usually a terrific way for couples and friends to connect. So go grocery shopping with your friends for some special items and start cooking! Set the table for a romantic candlelight dinner and enjoy the show. Now you know how to make an angry husband pleased.
Go for a vacation
Make a spur-of-the-moment trip to somewhere your husband might like seeing. Make all of the necessary preparations, and then surprise him. This is sure to make him happy and provide him with a much-needed break from his routine.
You can either plan an adventurous holiday with hiking or a relaxing vacation in a luxury destination. To assure the husband's happiness and satisfaction, be as imaginative as you wish.
Buy him innerwear
You can get him sexy innerwear if he can purchase you sexy lingerie. Purchase some for him and observe his reaction. Choose something he likes—the pops, the dots, the hearts—you'll be spoiled for choice.
You can ask him to model his new underwear for you! Why simply innerwear? The truth is, he'd be delighted with any gift you gave him. Allow yourself to lavish him with presents and treat him as a king.
Most importantly, trust him
Trust must constantly exist between the partners in order for a relationship to be successful. Make sure your husband understands that you trust him and that you will never betray his trust, and that you expect the same from him. Simply by believing him and without doubting him in vain, you will make your spouse happy.
We can promise you that the measures outlined above are simple to follow and will work wonders for your hubby. Do your part and watch as your marriage transforms into a dream come true.
How do I teach my husband to respect me?
1. Use a pet name for him.
2. Let him use his authority as the family's leader.
3. Don't challenge him if he's in pain.
4. Don't say anything when he's upset. You can apologize and explain why you behaved in such a way that irritated him when he is sober.
5. When you offend him, say "I'm sorry sweetie," urge on his forgiveness, and thank and kiss him when he does.
6. Pray for him in front of his friends and siblings.
7. Pay homage to his mother
8. Demand that he buys a gift for his parents, and you may rest assured that he will do the same for yours.
9. Surprise him with his favorite cuisine, especially if he is short on cash, and never let him go hungry.
10. When he comes home, greet him with a warm embrace, gather his bags, and assist him in undressing.
11. When you're out socially, smile at him and offer him pecks on the cheek.
12. Praise him in front of your children on occasion.
13. Hug him for no apparent reason.
14. While he's in the tub or shower, wash his back.
15. Place a love letter in his lunchbox or briefcase.
16. Call him and tell him you miss him.
17. Call his number and tell him you love him when you hear "hello."
18. If he's a public figure or politician, get him up early in the morning and woo him to the point of obsession. That day, he will not be enticed by any other woman.
19. Tell him how fortunate he is to be your husband.
Love Like There's No Tomorrow
What would you say to your husband if you knew this was the final day you'd ever spend with him? Would you choose to end your conversation with him because of the way he carelessly loaded the dishwasher? Or would you be able to see your love for him and your relationship in a different light? Would you consider what brought you together in the first place, and how thankful you are to be able to share your life with each other?
Today, love him like there's no tomorrow. Changes in love. People. More than any amount of criticism, sarcasm, or silence has ever done. People who are in love have the freedom to be themselves and the incentive to grow into the best version of themselves.
Consider how many times someone has inspired or motivated you to make a change in your life. What did it take for you to desire to change about them? That kind of love for your hubby is admirable. There are no strings connected. Remove any unreasonable expectations from your mind. Get rid of the performance targets. I adore him. And then watch what that love does to his heart, as well as yours.
Do you have any ideas on how to love him well? Start with www.5lovelanguages.com's basic assessment and ideas.
Believe in Him
We can become so caught up in our own visions of what our spouse should be that we overlook to see their own desires and passions. Rather than creating your own goals for what he needs to improve, tap into his motivation and join him.
As humans, we have a natural aversion to change…ESPECIALLY when it involves other people's incessant attempts to change us. However, we have a natural predisposition to be moved by genuine encouragement. It has the power to drastically alter our perceptions of ourselves.
What are your partner's ambitions? What has he aspired to be or do since he was a child? Consider what he's good at now…or what he has the potential to be good at in the future that matters to him. In your spouse's life, become a treasure hunter. Look for the good and bring it to light. Want to learn more about your hubby in a fun and engaging way? Get the 25 Conversation Starters for free!
Is he hesitant to return to school because he fears he won't be able to keep up? Inform him that you believe in him. Express your belief that he is a diligent worker who will figure out a way to make it happen. Assure him that you have his back. Become his most ardent supporter.
Your admiration and encouragement will give him the motivation he needs to make the improvements he wants to make. That will have a greater impact than any attempt to change him.
Adjust Your Mindset
Allow it to go. The desire to change your husband…to tweak, perfect, or improve him ""Repair" him. Simply let it go. Let go of the notion that you can — or should — alter him. Allow yourself to let go of your desire to control who he is and what he does.
Recognize that it only serves to damage your connection, his pride, and the trust you wish to share. So let go of your expectations of what he should do or be in order to succeed .
What you say to yourself about your husband in the privacy of your own mind will impact how you see him and respond to him on a regular basis. Take control of your feelings toward him. Rather than letting your emotions run wild every time he does something you don't like or agree with, focus on what you DO enjoy about him.
Recall the occasions when he has done the right thing, showed you love, or aided you in any way. You will genuinely appreciate who your husband is and that he is yours, flaws and all, the more you construct your own self-talk about him.
It might be difficult to focus on the positive, especially when hurt or disagreement is present. In this scenario, the best thing you can do is join God's perspective. If you're having trouble getting past your current situation, ask God to show you how He views your husband. Request that He reveal you what He is doing in your husband's life and what He sees in him as potential. Also, start praying for your husband. It's difficult to be angry with someone while really praying for God's blessing in their lives. Allow God's perspective about your spouse to influence your own.
Change Yourself
Michael and I were married for a year when I realized there was only one person in our relationship that I could influence. Me.
As simple as it is to focus on what you want to change about everyone and everything else in your life, you can only alter one person: yourself.
The more I concentrated on changing Michael, the more estranged we were as a pair. Our bond got so much stronger when we switched our thinking to loving and encouraging each other instead of focusing on what we each needed to work on separately.
Not only did we each have personal breakthroughs as we worked on our own challenges, but those breakthroughs pushed the other person to work even harder on their own issues. So, in general, we both began to notice positive changes in our life, and our marriage grew stronger as a result. Instead of being terrified of not meeting one other's unrealistic and often unspoken standards, we could start to share the joy of personal growth.
Do you think your partner could be a little more loving? Instead, consider how you can be more loving. Do you think they need to practice patience? Begin by evaluating your own patience. You and your partner will be more empowered to actually make meaningful changes if you focus on your own personal progress.
What's the Point?
Is it true that marriage is a fairytale? Perhaps not quite. Marriage, on the other hand, is a wonderful gift. When you invest in your marriage, it will provide you and your entire family with a wellspring of life, love, and strength.
However, from an early age, we are bombarded with all kinds of false information about love and marriage. On so many ways, the more we set unrealistic ideas about what our marriage should be, the worse off we are.
Marriage is not without flaws. Alternatively, it may be simple. It's one of the most difficult tasks we'll ever face. But it's well worth the effort. Your partner isn't flawless. You aren't either. That is why you require each other.
It is not my responsibility to alter my husband's behavior. And I'm afraid I won't be able to do it. He didn't marry me because I was his teacher…or because I was his parole officer. He married me because he wanted me to be his best buddy. That implies I must take my role seriously in order to build a strong relationship in our marriage.
That wants a best buddy who constantly nags them about what they're doing wrong in their lives? You want someone who sees the good in you and encourages you to achieve your goals. When you make a mistake, you want someone to laugh with you and help you get back on your feet. I'm not going to shame you for it.
You will have the freedom to become the finest version of yourself if you allow yourself to recognize that the beauty of marriage is in the process, not the final thing. Allow your hubby to follow suit.
Are you ready to rekindle your relationship in just 20 minutes a day? Here's where you can sign up for the FREE 5-Day Marriage Challenge!
Disclaimer: In cases of emotional, verbal, sexual, or physical abuse, radical transformation in a spouse is required, and outside assistance is required. Please understand that this material is not intended to help you if you are in an abusive relationship. I strongly urge you to get help from a counselor, domestic abuse advocate, pastor, or friend to ensure your safety.
How do I change my husband?
Everyone advises you shouldn't try to persuade your partner to change. You must accept him or her as he or she is, warts and all. While it is true that you cannot force someone to change – he must choose to do so — there are ways to influence someone else's conduct.
These five simple measures not only boost the chances of behavioral change, but they also help couples become closer.
Behavioral patterns are rarely the final goal in and of themselves. Something deeper usually drives the desire to act in the same way again and over again. If your partner, for example, throws parties every night, stays up late and consuming a lot of alcohol to his detriment, there's more to it than him merely being a party animal ""Inexperienced." Advising him to ""Grow up" isn't going to make him change, and it'll probably push the two of you away.
Instead, inquire as to what he gains from partying. "Do you do it to unwind?" "Do you want to get rid of some anxiety?" "Is it to avoid taking responsibility?" Before attempting to modify a habit, begin by seeking to understand the motivation behind the action.
For a variety of reasons, advice rarely succeeds in influencing someone else's behavior. It frequently comes out as critical or judgemental, prompting the other person to dig her heels in to her current behavior.
However, if you've spent the effort to figure out what's causing the stagnation, you may make solutions that address the root of the problem. Because she named the deeper issue and characterized it as a problem, this form of advise is more difficult for the other person to resist.
Before offering any change ideas, reiterate her grasp of the core issue to her satisfaction to make your suggestions much more impactful. It will make her feel heard and understood, not criticized, if she repeats her own remarks. Restating anything twice before giving counsel works wonders for generating change.
Advice is often used to assist someone change their behavior, but there is a much more powerful way to encourage change. Modeling the behaviors you want to see is one way to do it. Modeling is extremely effective for three reasons:
It's about showing rather than telling. It demonstrates to your partner how she may be doing things differently.
It's a good thing, not a bad thing. Instead than saying, "Why don't you quit doing that?" it says, "Look at what you could start doing."
It's a part of our biology. In our brains, we all have mirror neurons, which make us naturally want to imitate the individuals we like. If your partner likes you, she'll naturally want to emulate the actions she observes in you.
If you want your wife to be more adventurous, for example, go on excursions yourself. Demonstrate to her that taking risks may be enjoyable. She'll be motivated to have a good time as well, and best of all, she'll believe it was all her idea!
Accepting your partner's damaging actions isn't always the most kind thing to do. It's necessary to set some hard boundaries if his actions are actually harmful to himself – or to you. Setting boundaries entails simply refusing to accept certain behaviour. If the threshold is breached, it signifies the relationship is on the verge of ending.
Setting limits requires you to make it crystal clear — both to yourself and to the other person – what you will and will not accept. If your husband, for example, like driving very quickly, it's not enough to suggest, ""Do not drive too fast." Make it crystal clear: What exactly does it entail? "What does "very fast" imply? Is this only true when you're driving or all of the time? Is it also applicable on back roads where there is little risk of speeding?
Set clear boundaries for yourself. Also, only put hard boundaries around things that are truly important. After all, you're putting your entire relationship on the line.
There's nothing like watching you embrace change to make someone else more inclined to change. If you're aware that you have a tendency that your partner despises, make an attempt to change it. The effort you put into better yourself will be an encouragement to her, and it will soften her heart to change.
Remember that you and your partner are in this relationship on an equal footing. Don't ask your partner to do something that you wouldn't do yourself.
True, you can't make someone else change; they can only change themselves. That isn't to say there isn't anything you can do to encourage change. To get the outcomes you want – a better spouse and a tighter relationship – just follow these 5 simple steps.
What keeps a marriage alive?
It's heartbreaking for a woman to realize that her husband appears to have lost interest in her. Women frequently assume that unsatisfactory sex is to blame for the cold temperatures. Men, on the other hand, frequently detach from their wives for reasons other than sexual. Check out these eight Do's and Don'ts to see if any of them can help you restart your relationship with him.
– Avoid becoming a diva. Even the most patient man might be turned off by nagging, nasty, controlling, and bitchy behavior, especially if you're used to venting your frustrations on him or expecting him to be at your beck and call. A man's passion for a woman who throws temper tantrums, complains frequently, or makes him walk on eggshells is difficult to experience. Consider this: Would I want to live with myself?
– Avoid becoming a doormat. Do you allow him to mistreat you in order for him to stay? Do you always comply with his desires in order to avoid upsetting him? It's time to check for footprints on your back if you're afraid to argue with him or speak up for yourself, or if you feel like you're putting significantly more effort into the relationship than he is. Women who are pushovers are unattractive to men, at least the type of guys who are worth having.
– Don't limit yourself to being a mother. We all love our children; yet, a wife who has a child-centered marriage, in which her children become the identity and purpose of her marriage, risks losing the close friendship and lover relationship she has with her husband. It's fine to skip Saturday soccer practice so you and he can have a romantic weekend away. It is, in fact, necessary. Modeling a happy, couple-centered marriage raises the chances that your children will have happy marriages and families as well. So secure your bedroom door with a lock and utilize it.
– Don't dismiss his criticisms of you and your marriage. Is he complaining about how much money you spend? You're always on Facebook, right? That you're untidy? That you despise him or find fault with his parenting? Rather than getting defensive, consider whether his complaints are valid. Of course, you have your own gripes with him. Find a technique to address continuing dispute in your marriage before it widens the gap between you two. If professional assistance is required, so be it. Check out the Marriage SOS self-help home program or an excellent marriage guidebook if your husband would rather have a root canal than go to marriage counseling.
– Develop a positive attitude toward yourself and your life. What's the source of your dissatisfaction? What is it that is causing you so much anxiety? What is it that is preventing you from achieving your goals? Take charge of your own life and make the necessary adjustments to improve it. Improve your energy, outlook, and self-confidence by starting to take better care of yourself, both physically and mentally. Couples who "get it" are more enjoyable and desirable than those who don't.
– Don't forget to thank him. When was the last time you congratulated your husband for his hard work, for being a good father, or for simply being a pleasant man to hang out with? You chose him if your response is "He isn't any of those things." Instead of making excuses or assigning blame, work on your marriage. If he is all of these qualities, consider yourself lucky and start thanking him for everything he does. Especially in front of your children, sing his praises as a spouse and father. The end result is truly magical.
– You should roMANce him.
Candlelight meals may appeal to you, but they may not appeal to your man. Consider alternatives to the heart-shaped box. Send the kids to Grandma's for the night, curl up in bed, and watch a cheesy sci-fi movie while eating even cheesier nachos. Challenge him to a round of video games if he's a gamer. Buy his favorite hobby magazine and leave it on the back of the toilet so he can read it "at his office" if he's a car or sports fan. It's unpleasant, to be sure. It could, however, be your man's equivalent of long-stemmed roses.
– Think about your sex life. Marriage is a sexual connection that necessitates both emotional and physical intimacy; nevertheless, marriage issues frequently manifest themselves first in the bedroom. To make him feel desired, initiate sex. Alternatively, if you've been pressuring him for sex, attempt the inverse: tease him but allow him lead the way. Experiment with sex toys, lubricants, different positions, erotica, and whatever else you want to spice up your sex life. Change up your sexual routine. Practice delayed gratification to increase anticipation if your sexual frequency is high but your enthusiasm is low. Break out the calendar and pencil it in if the frequency is low. It's a use-it-or-lose-it situation when it comes to sex. Finally, the couple who plays together stays together.
How To Capture His Heart And Make Him Fall For You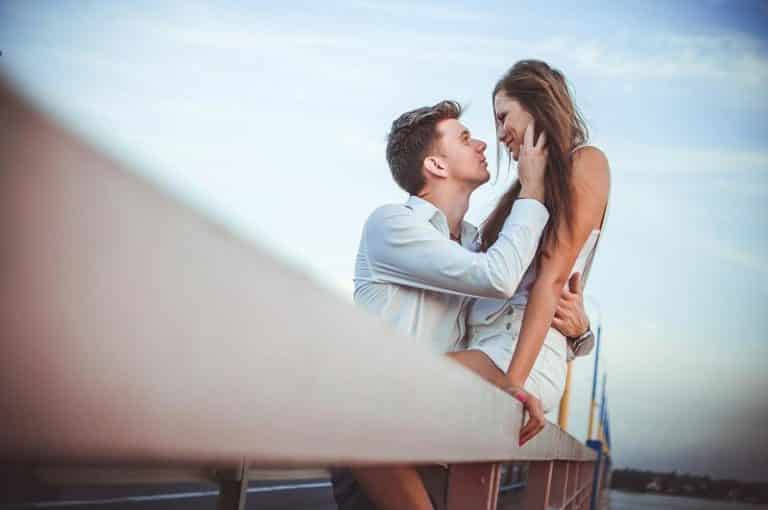 Here's what we've realized after so many years of experience as dating coaches:
It's really easy to make men fall for you once you know the "cheat code".
See, most women don't really know how men think, and why they act the way they do…
In fact, they go through their whole life never meeting the perfect guy who treats them right.
Don't let this be you!
We've taught thousands of girls around the world the special "cheat code" to a man's heart.
Once you learn the truth about how the male mind works, you can make any man fall in love with you.
Here's how it works:
There are special tricks you can use to target the "emotional triggers" inside his mind.
If you use them the right way, he will start to feel a deep desire for you, and forget about any other woman in his life…
The best part? These techniques are based on psychology, so they work on any man, no matter how old you are or what you look like.
To learn about these simple techniques, check out this free eBook NOW:
As women, we understand how you feel.
But no matter what other people say, always remember:
You are an AMAZING woman…
And you deserve an amazing man who loves you, respects you and treats you special.
So start using these special techniques today, and see how quickly men fall in love with you immediately!