Tired of putting on a hazmat suit every time you go to your significant other's residence in Corona? One possibility is to move in with them. Cooking, shopping, and cleaning for two saves time and money, but it may also put a strain on a relationship, especially during a pandemic when socializing with other people is more difficult than ever.
One thing is certain: you don't want to find yourself in a situation where you put in all the time, expense, and danger of finding a house together just to find out it was the wrong decision and have to start over, or worse, break up. Before you book the U-Haul, go over our checklist of all the conversations you should have and milestones you should reach with your significant other to be sure your relationship is ready for this move.
How long should you be dating before you move in together?
Before considering moving in together, you should wait at least a year after you start dating, but two years is preferable.
You'll want to know exactly what you're getting into for a smooth transition.
Couples that disagree on a lot of issues may find it more difficult to live together, whereas those who share the same perspective as their partner will find daily life goes much more smoothly.
The ideal time for any couple to move in together is different for each of them.
Some people click right away and run like a well-oiled machine, while others may need to work through personal and societal obstacles before moving in with their significant other.
You shouldn't move in with your significant other until you know them as well as you know your best friend.
You will witness your mate at their best and worst when you live together.
As you get to know a person better, you may discover that your personalities don't always fit as well as you imagined.
When should you move in with boyfriend?
To begin with, most people do not believe it is time to move in together at a specific age or stage of their relationship. After dating for less than six months, 27% of those polled said they moved in together, while 18% said they don't think people should move in together until after they've married. However, it's worth noting that just 7% of those who moved in together after dating for six months or less recommend that others do the same — so, y'know, a word of caution: The honeymoon period may be enough to keep you going in the early days of cohabiting, but it may break apart later on.
How soon is too soon to say LOVE YOU?
According to statistics from 6,000 people published with mindbodygreen by OKCupid in 2020, 62% of people believe you should declare "I love you" "as soon as you feel it," while 22% believe you should wait "several months" and 3% believe you should wait "at least a year." Men, on average, take three months to express "I love you," according to studies.
What percentage of couples break up after moving in together?
Just over half of couples who decide to live together marry within five years. During the same time period, 40% of couples divorced.
What is the honeymoon stage in a relationship?
The honeymoon period is when a couple's relationship is in its early stages and everything seems carefree and joyous. It typically lasts six to two years and is defined by a lot of laughter, tenderness, and fun dates.
Can moving in too soon ruin a relationship?
Key Takeaway: Rushing into promising relationships too quickly, such as asking to move in together after only a few weeks, is a typical error that can undermine them. More successful relationships can be achieved by gradually getting to know one another and allowing the connection to grow organically.
I've spent decades as a therapist listening to dating stories. The need for a relationship is part of the human experience, and most people would want to be in one at some point in their life. However, for many people, locating that "someone" is a challenge. Many times while listening to dating experiences, I've found myself reacting and answering "I can't believe you said or did that on your first or early date." Perfectly nice people have said or done things that have clearly sabotaged a situation that had the potential to be fruitful.
What Not To Say In A New Relationship
Things like "Here's the key to my apartment" on a second date, "Let's plan a trip to Europe" (pre-pandemic) on a first date, and "Let's buy a house together" a month after meeting are all off the table. Rushing—moving too rapidly into anything full-speed forward only to meet a wall pretty quickly—seems to be the single most telling element that seems to derail dating. And being hurt and rejected as a result of rushing makes it more difficult to pick yourself up and continue dating in your search for the ideal person.
How long should you date before making it official?
If you believe they do, you're in the ideal mindset to approach the exclusivity discussion. If you're not sure, you should probably figure out why before you start thinking about getting married.
You can also tell your friends about them and see how they react. Your pals will be able to tell if they cringe when you refer to them as your boyfriend or girlfriend based on how they act around you. Because you'll most likely be wearing the rose-tinted spectacles of a new romance, they'll have a more objective perspective.
"Quite often, our sentiments mislead us, and we don't know if someone is into us," Stott explained. "People will say things like, 'Oh, we've seen the way he looks at you, he's certainly interested.'"
As a general rule, two months is a good amount of time to bring up the subject. However, because each relationship is unique, if it feels right early, go for it. If it still doesn't feel right, there are a few things you may do to prepare yourself for the conversation.
How long should you date before proposal?
If you're concerned that your relationship is progressing too quickly, examine whether you're still in the honeymoon period. You're aware of what we're referring to. It's when you can't take your stupid grin from your face, when everything your partner does is flawless and amazing all at once.
According to Dr. Nelson, "There is no set period of time that a couple should date before becoming engaged, but the golden rule of every happy and successful marriage is to recognize that every pair goes through a "romantic love" phase. The pair will then start the power struggle or conflict phase of their relationship, which can last anywhere from 2 days to 26 months. This is perfectly natural and will most likely endure the duration of your marriage, if not forever (the bad news). The good news is that a successful marriage requires purposeful communication and planning. Conflict is unavoidable (and has no bearing on whether or not you are in a long-term relationship), but how you resolve it is far more important. Work on mending your problems and creating healthy communication whether you're engaged, living together, or married, and your relationship will continue for the rest of your lives together."
So it doesn't really matter if you were engaged after five years or five months. When it comes to determining how long you should date before proposing, the most crucial factor is that you are both confident in your commitment to one another. Do you agree or disagree with this statement?
Are you unsure where to start with your wedding preparations? Take our Style Quiz and we'll create a unique wedding vision for you, complete with vendors to match. Then, to keep your guests informed (and enthusiastic!) about your plans, construct a free, unique wedding website, as well as a time-saving Guest List Manager to keep track of your visitors. What's better? To update everything at once, you can sync your Guest List Manager and wedding website.
Do men fall in love faster?
Society has a lot of outdated gender stereotypes, and the majority of them are just incorrect. Instead than clinging to outdated gender stereotypes (which, for what it's worth, can be damaging), we should abandon them entirely. In that vein, here's another erroneous gender assumption for you to consider. Women, contrary to popular assumption, do not fall in love easily. Men are more likely to profess love at first sight in partnerships involving cisgender men and women, according to study.
According to a new study, males fall in love faster than women, and the explanation for this could be biological. Men reported falling in love and expressing their feelings first, according to a survey of 172 college students. According to Broadly, males are quicker to proclaim "I love you" because women are physically predisposed to be pickier in their mate selection. Because pregnancy is such a major commitment, psychologist Marissa Harrison, one of the study's co-authors, told Broadly that she believes women may subconsciously postpone love in order to ensure their partner is suited for having children with. Of course, not all women desire children, and not all relationships result in the birth of children. Another psychologist said that the reason men fall in love faster than women could be due to gender roles at work, with men seeking to meet the expectation of taking a leadership position in a relationship.
How do guys know they're in love?
There may be millions of women out there, but you are truly one in a million to him. He's just interested in what you're up to and how you're doing it.
He is uninterested in others around him, particularly ladies. He can't take his gaze away from you.
He'll talk to you for hours, even if you think there are prettier women in the room with whom he could be conversing.
According to Loyola University research, persons in love have decreased levels of serotonin, which could indicate obsession.
"This could explain why, in the early stages of a relationship, we focus almost entirely on our spouse," said obstetrician-gynecologist Mary Lynn, DO.
Don't be fooled by a little self-doubt: this guy has gone down hard. With so many distractions in today's world, it's a good sign if someone pays you that much attention.
How To Capture His Heart And Make Him Fall For You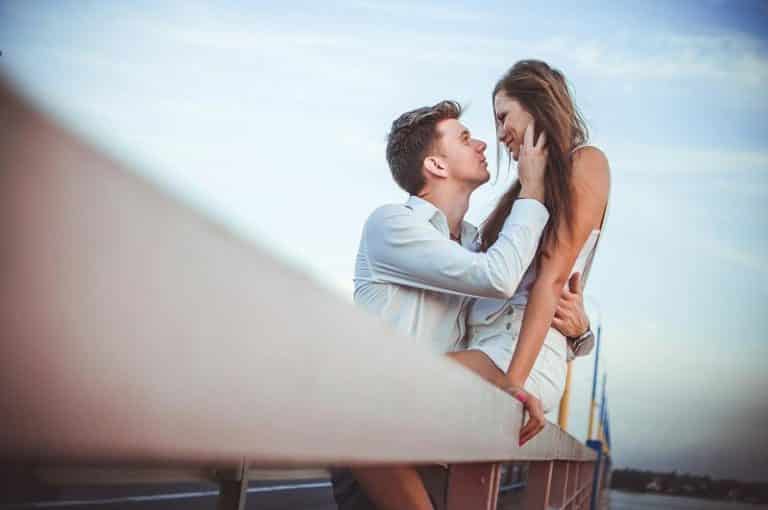 Here's what we've realized after so many years of experience as dating coaches:
It's really easy to make men fall for you once you know the "cheat code".
See, most women don't really know how men think, and why they act the way they do…
In fact, they go through their whole life never meeting the perfect guy who treats them right.
Don't let this be you!
We've taught thousands of girls around the world the special "cheat code" to a man's heart.
Once you learn the truth about how the male mind works, you can make any man fall in love with you.
Here's how it works:
There are special tricks you can use to target the "emotional triggers" inside his mind.
If you use them the right way, he will start to feel a deep desire for you, and forget about any other woman in his life…
The best part? These techniques are based on psychology, so they work on any man, no matter how old you are or what you look like.
To learn about these simple techniques, check out this free eBook NOW:
As women, we understand how you feel.
But no matter what other people say, always remember:
You are an AMAZING woman…
And you deserve an amazing man who loves you, respects you and treats you special.
So start using these special techniques today, and see how quickly men fall in love with you immediately!
---
More FlirtSavvy Articles
Your boyfriend or girlfriend has expressed their want to end their relationship with you and no longer be romantically involved with you. You probably came on this page by looking for information on how to get your ex back or viewing one of my YouTube videos. You probably read or heard to me propose the No Contact Rule when you went to war to get your ex back. No contact with your ex, on the other hand, may have struck…