After you've broken up with him, the first thing you should do is cut all links with him.
This may seem severe, but the truth is that if you want him to think about you, you must limit his contact with you.
Blocking him on social media, rejecting his phone calls, and avoiding places where you know he frequents are all strategies to keep him thinking about you even when you're not around.
While you may be tempted to start living your best life online so he can see you and think about you, the truth is that absence makes the heart grow fonder, so if he can't see you, he'll look for you.
Remember to grieve and make sense of the situation for yourself before you plunge into something new or even try to get him back.
Make a decision on what you desire. It's easy to get caught up in the drama of a breakup, but there's no need to make any decisions right now.
Allow time to perform its job, which is to heal all wounds. To get him back, you must be healed from the split and ready to take this relationship in a new path.
You will be disappointed if you expect to simply take up where you left off. People evolve over time.
And the truth is that there are no hard and fast rules on how long it will take you to reclaim him. You must first heal yourself before attempting to resurrect him.
"Does my ex want me back?" QUIZ This is a question you're undoubtedly asking yourself if you miss your ex. I've created a fun science-based quiz to help you determine whether or not he wants you back. Here is a link to my quiz.
How do you make a guy miss you badly?
You want to be comforted not just so that you may feel pleased in your relationship, but also so that your love story can continue to flourish. This is why convincing him to miss you can be a viable option. You can not only be certain of his feelings for you, but you can multiply them tenfold.
Make the time you spend together amazing so he wants you around more.
You mix up the power play between you and make his deeper affections for you develop more faster if you can get a guy to miss you. So, if you spend quality time together and actually enjoy each other's company, you can be sure he'll think about you when you're not around.
You can also text him to remind him how much he wants to be with you. What are some ways to make him miss you over text? A little flirting and promises about your next encounter will undoubtedly make his head spin. To have him thinking about you — and just you — post images (delicious ones!) and call or phone him.
How do I get him to chase me back?
Don't always make yourself available to him by saying yes whenever he calls and invites you out.
If you're wondering how to get him to chase you, send him a message that you have other plans or responsibilities that take precedence, at least at first.
It also compels him to acknowledge your independence, as you're not just waiting for his phone calls.
Remember, one of the most appealing qualities in a woman for men is freedom.
It's at this point that you tell him how full and complete your life is — and that if he becomes a part of it, it's because you want him to, not because you need him to.
You're playing games if you're just playing the part and don't have any real plans…
My point is that I can't tell you how many girls I've met in the past who meet a new guy and then suddenly find themselves in a new life.
The old priorities are no longer a priority, and the new man has taken their place.
When you organize dates with your girlfriends, family, and hobbies… rather than scheduling around him, he sees you as a valuable woman living an active life. To Tweet, simply click here.
Don't rush to drop everything for him; trust me, he'll respect and appreciate you more as a consequence.
You'll be sending him good morning texts before you know it, but only once he's committed!
How long does a guy take to miss you?
He'll start missing you in 1-2 weeks, according to the normal rule of thumb. However, this may not be the case for everyone. It may take longer if he broke up with you because the relationship was unhappy. When a girl breaks up with a guy, he may start missing her much sooner than the usual 1-2 weeks.
If you follow the no contact rule and don't respond to him, you must not ignore him for an extended period of time. This stage can be challenging because everyone's time limit is different.
You should not keep the no contact rule for more than a few weeks. When guys don't talk to you for months, it's easy for them to forget about you and go on. After a breakup, you want him to miss you, not move on to another female.
Why do guys pull away and then come back?
Because they aren't sure how they feel about you yet, men pull away and then return. Men may withdraw because they prefer the independence of being single, or because they still have affections for another woman and are unsure what to do with two women in their lives.
Coaches educate boys how to date in dating programs "Push and pull." This entails switching between exhibiting interest and apathy.
The most typical reason for males to act is, however, "They are "hot-and-cold" because they are unsure of what they want and how to properly manage their emotions.
Do men like to be chased?
According to a survey, some guys love the thrill of the chase when it comes to women – and devices. A group of male volunteers was shown two images of a woman by researchers from the University of Chicago.
Why do guys show interest then disappear?
This basically says he's dating since it's his hobby and he has no desire to pursue anything else. He isn't interested in having a real relationship. As a result, many people, particularly those in their early to late twenties, are not dating with serious intentions.
How long is the pull back phase?
I understand why so many of you are in misery and don't understand why your guy will disappear, call you less, stop messaging, or even break up with you when things are going great.
Our most recent remark comes from A. I can assure you that she is not alone, as a dating expert and coach. Please have a look at her relationship issue and leave a comment.
Wow! I've been searching the internet for answers for nearly a month, and your essay seemed to have solved all of my issues.
I've been dating a guy for three months. He seemed to be the one, and he made me feel like I was, too. He never said "I love you," but I had the impression he was… He texted me at least twice a day, although we only saw each other once every two weeks (we had a long distance relationship and he had his son every other week).
He sent me a lovely birthday card, I met his son, and then a week later, he abruptly ended our relationship, claiming that he was afraid and that he didn't love me enough to continue. I inquired further, but he simply vanished.
Note that he is also going through some difficult times at work, and his previous relationship with his son's mother ended in disaster.
I haven't heard from him in a month, but I still believe he loves me and made a terrible mistake. I'm sure that was stressful for him, and he was probably just exhausted. Introducing me to his son was also a significant thing for him.
Anyways. I'm still optimistic. What are your thoughts? Is he capable of realizing that it was all due to stress? How long do you think it'll take? I'm making progress, but he was "my man," and I still believe our tale isn't over…
I'm sorry to hear that your boyfriend had to back out of a meaningful relationship with you. When it comes to relationships, timing is everything. The key is to meet the right person at the appropriate moment and have your relationship progress smoothly.
Unfortunately, this is not always the case. Someone is either transitioning from a past relationship, has work difficulties that are more important than a romance, or simply requires space. It's possible that you're the right person at the wrong time. Because I've never met or spoken with your now-ex-boyfriend, I can't say for sure.
What I can tell you is that males frequently require space and time to work things out without being pressured by others. In addition, the first three months of every relationship are crucial. It's what I refer to as the first trimester of love. At 3 months, 6 months, 9 months, and one year, both men and women re-evaluate their relationship statuses. Three months is probably the most common time I see individuals break up, deciding they don't want to take their relationship to the next level, which includes choosing to be in a committed relationship, saying "I love you," and getting into a groove.
Outside of the bedroom and the glory of sex, when a man says "I love you," it means a lot to them. They project into the future, and if they aren't ready, they will vanish if you wish them to.
However, if he comes to his senses and understands how valuable you are, he will return. He was being honest and real when he admitted he was terrified. He's got a lot on his plate!
The big question is whether or not you'll still be available when he returns. You should start dating at this stage, and perhaps you'll meet someone who is a better match for you. This isn't going to happen if you've only been in love with the guy for three months.
Go forth and be self-assured, and make yourself open for love. You will be found by the proper person. Your boyfriend isn't ready for a committed relationship, or isn't ready for a serious relationship with you. (sorry)
Be grateful that you have such strong feelings for someone; if he returns, it will be because you are no longer needy and he is prepared. For the time being, there's no reason to pursue him or anticipate your guy to appear out of nowhere. There is no date on the calendar. He might even meet someone else, but if his love for you were greater, he'll notice the difference.
I understand how painful it is. I've been there, and I can tell you that they frequently return. It all boils down to a matter of time.
If and when he reappears, you may no longer have the relationship status "single." Whatever you do, don't chase him. Surround yourself with friends and activities to live your amazing life. It will happen if it is meant to be, but he must be the one to recognize it.
How long does it take a guy to want you back?
The answer is different for everyone, however many guys will have regrets about breaking up with you within a month to six weeks.
Dumper's remorse, as I refer to it, is a very real emotion. It happens to almost everyone who has ever dumped someone. Even guys who are certain that the girl they left wasn't suited for them experience it, and may even wonder if they did the right thing.
How To Capture His Heart And Make Him Fall For You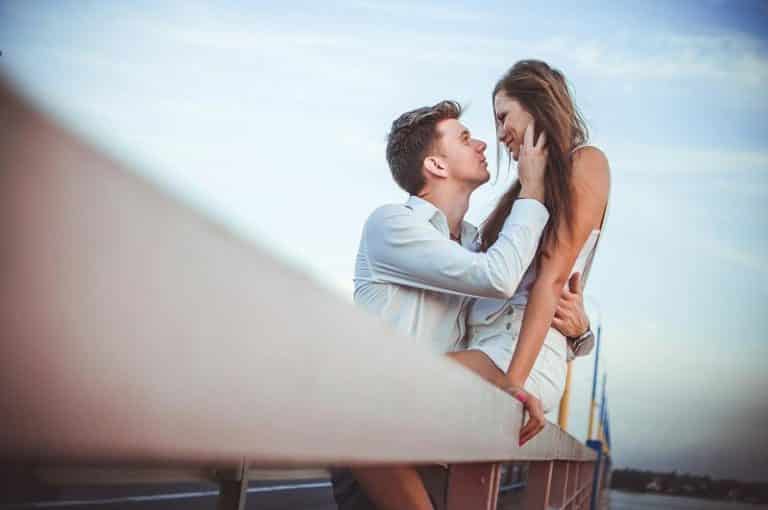 Here's what we've realized after so many years of experience as dating coaches:
It's really easy to make men fall for you once you know the "cheat code".
See, most women don't really know how men think, and why they act the way they do…
In fact, they go through their whole life never meeting the perfect guy who treats them right.
Don't let this be you!
We've taught thousands of girls around the world the special "cheat code" to a man's heart.
Once you learn the truth about how the male mind works, you can make any man fall in love with you.
Here's how it works:
There are special tricks you can use to target the "emotional triggers" inside his mind.
If you use them the right way, he will start to feel a deep desire for you, and forget about any other woman in his life…
The best part? These techniques are based on psychology, so they work on any man, no matter how old you are or what you look like.
To learn about these simple techniques, check out this free eBook NOW:
As women, we understand how you feel.
But no matter what other people say, always remember:
You are an AMAZING woman…
And you deserve an amazing man who loves you, respects you and treats you special.
So start using these special techniques today, and see how quickly men fall in love with you immediately!
---
More FlirtSavvy Articles
Your boyfriend or girlfriend has expressed their want to end their relationship with you and no longer be romantically involved with you. You probably came on this page by looking for information on how to get your ex back or viewing one of my YouTube videos. You probably read or heard to me propose the No Contact Rule when you went to war to get your ex back. No contact with your ex, on the other hand, may have struck…