Enough with all the ridiculous attempts to portray males as dumb adolescents with a one-track mind.
Television comedies, one-liners, stand-up comedy routines, and chats at the neighborhood hair salon are all full with commentary on male sexual hunger.
I simply believe that we, as wives, have a strong desire to sexually please our husbands.
So let's not get caught up in sexist and patriarchal stereotypes.
Shower compliments
Your guy will feel especially special if you use sweet words. He could enjoy hearing compliments now and then. Your words of encouragement could be just what the doctor ordered. You can commend him on being a good husband, how he pampers you, and his physical characteristics. "You have such mesmerizing eyes," say something easy to him. "You look so dashing in a tux," for example. "You always fulfill me," you could say, as you watch your hubby get closer to you.
Be affectionate
Although physical connection is vital, men also crave affection. Make an effort to come up with creative ways to make him feel welcome. When he's upset or you've had a squabble, surprise him with a love note, hold his hands, or simply say sorry. It's impossible to go wrong with small gestures. You can even be playful and give him a shoulder or back massage, or startle him with a sudden kiss.
Discuss fantasies
Men may be afraid to discuss their fantasies openly. Using some deep conversation starters and letting him know you're all listening, you can get him to express his expectations, thoughts, or desires. It's much easier to turn your expectations into reality if you and your partner are aware of each other's.
Use the power of touch
Physical contact has a lot of power (1). When words fail, utilizing touch to keep your husband satisfied may be the best option. Soft, satisfying touches can work wonders for him and make him happy. Know your man's weak spots, whisper in his ear, tickle him, and elicit his sexual desires.
Play games
Your special nights can be spiced up with games. Playing games is a great way to break up the routine and have some fun. Some of the unusual games you can play with your husband in secret include blindfold, truth or dare, role play, and kissing scrabble.
Be prompt in your actions
You can't always plan and execute things systematically because it gets boring after a while. Surprise your hubby by acting on the spur of the moment. Step outside of your comfort zone and do something fun with your companion. Going on a long drive after midnight, kissing him as he dresses up, going for a swim together, or planning a weekend excursion to his favorite area are all possibilities. You can even seduce him on a casual day and make him dumbfounded.
Be expressive
Not all men are adept at picking up on your cues. Make it clear to your husband that you like his companionship. You can express your feelings to him with simple phrases like 'yeah,' 'wow,' 'that's wonderful,' or 'I love it.' You can even discuss what you anticipate from him and what you want him to do for you in an open and honest manner. When you are honest with your husband, he may appreciate it.
Keep experimenting
Is your hubby the one who always initiates physical connection and comes up with new ideas? Even guys want their mates to make them feel desirable at times. You can stroke his back or give him a massage to gratify him and be the main lady. Sexual fantasies that differ from one another might turn on your man and keep your relationship interesting. Trying new things and changing positions with your man can make him happy.
Build excitement
Creating a sense of anticipation can lead to feelings of fulfillment and pleasure. You are free to take your time. 'Enjoy the ride, and the destination will be your reward,' as they say. Dopamine levels can be boosted by physical touch, gentle teasing, enticing phrases, and body language.
Participate in his fantasies
Your husband might want to see you in a gorgeous attire, or he might want you to rule over him. You can indulge in his desires if you are in an honest and respectable married relationship, and he would gladly open up to you.
Get flirty
Flirting is nothing more than a game you play with your husband. You can do it occasionally, but not on a regular basis. Sending a flirty text or a kiss emoji, giving him a tiny pinch, or just looking at him theatrically are all ways to get cute with him. Such actions will gratify him and keep your connection alive for a long time.
Move out of the routine
Making love in different places might provide some diversity and added pleasure to your sexual life. You can stay in a posh hotel, go camping in a peaceful setting, or organize a trip to a new site. Getting out of your typical routine might add spice to your life.
Wear stylish outfits
At times, change up your appearance. Wear something enticing and gorgeous that your hubby would like seeing you in. Accessories and makeup can also enhance your overall look. Dress up a little hot and sexy to catch his attention and gratify him.
Enjoy roleplay
You can engage in some fun role-playing and get a little tactile. Try various roles in which you and your partner are both at ease. Your romantic gestures could become memorable, and your partner would appreciate it.
Take control in bed
Your hubby may want you to take the lead on occasion. There's no rule that says just the spouse has to have the upper hand in bed. Take command, dress sexily, talk dirty, seduce him, and savor the intimacy.
Plan a fancy date
You may prepare a romantic date at home by dimming the lights and adding a delicate aroma. Arrange or prepare delights that he enjoys. Don't forget to set the table with his favorite dessert and drink. Kiss your hubby and spend some quality time with him after a lavish lunch.
Add some mystery
You may make your husband happy in bed by introducing some suspense. In bits and pieces, hide and expose components of the special night. Enjoy a relaxing pillow conversation, cuddle in each other's arms, and gradually reveal your seductive and daring side. Make the evening enjoyable in order for the night to be enjoyable.
Be adventurous
You can discover new elements of pleasure and rekindle the fire in your relationship if you and your partner have a healthy and open relationship. Your husband will appreciate the new improvements, and your connection will strengthen over time.
Stay calm
When your husband gets enraged, use this strategy. Arguing or retaliating may only add gasoline to the fire and make matters worse. Let there be quiet for a while instead. Wait for him to calm down before listening to him if he want to speak.
Be transparent
You don't have to keep anything from your partner. Keeping secrets could cause mistrust in your relationship and cause it to suffer. Feel free to open up about your concerns, worries, insecurities, and desires.
Adore him
Appreciate him, tell him you love him, communicate your sentiments, be kind to him, and worship him the way he wants. Indoors and out, a consistent expression of affection would gratify your husband and establish a firm foundation for your marriage.
Give space
Give your husband some space if he is enraged. Recognize the source of his irritability. It could be due to work stress or a financial emergency. Talk to him, but don't compel him to do so. Allow him to explain why. And whatever it is, assist him without passing judgment.
Make home a paradise
Your house should be your husband's paradise. At times, the outside world can be difficult for him. He may seek tranquility and relief whenever he is irritated. Make your home a peaceful haven for him to unwind.
To impress your husband, there are no hard and fast rules. You might choose some suggestions and make an effort to satisfy your man's preferences based on his preferences. You should not, however, push yourself to do something that your heart condemns. The ideas presented here are all about intimacy in a relationship. When both parties contribute an equal amount to the relationship, it builds a strong intimacy.
How can I be more sexually attractive to my husband?
It's not uncommon for a relationship's passion, sexual tension, and passionate enthusiasm to wane with time.
This isn't an unavoidable consequence of being in a long-term relationship (I know many couples who have highly charged intimate relationships after being together for several decades). This is simply a predicament that most couples find themselves in after a few years of being together.
It's possible that you'll start taking each other for granted. It's possible that a sense of familiarity with each other's bodies takes control. Small, unprocessed squabbles pile up, and animosity simmers beneath the surface, like a silent din in your relationship.
It's not as difficult as you would believe to rekindle the passion in your relationship. Even if you've been ignoring the fact that you're disconnected for years.
Getting the spark back will take some effort, just like everything worthwhile. It was well worth the effort. That is, if you enjoy being admired and worshipped as a brilliant sexual queen by your spouse.
Some of these strategies will work so well (and so rapidly) that you'll feel like you have an excessive amount of power. "With tremendous power comes enormous responsibility," Gandhi once stated. Just joking. That's what Spiderman said.
I trust your heart is in the right place if you've reached my website. I recommend that you only use these approaches on men with whom you are in a relationship or who you are serious about having commit to you.
Last but not least, keep in mind that many of the following behaviors aren't things you'll be doing all of the time; rather, they're strategies you can employ when you want to boost or sustain sexual polarity with your spouse.
Extend your vowels
Extending your vowels while speaking is one of the quickest methods to make yourself more desirable to your man in the present.
If you're always racing through your phrases and chatting to him as if you're in a boardroom, he'll start to regard you as a work colleague rather than a lover.
But if you get out of your head, into your body, and slow down the pace at which you speak, you will instantly draw him closer to you.
Believe me, there's a big difference between "You look nice" and "Baaaabyyyy…"
Also, it should go without saying, but don't take them to the point of becoming humorous or ludicrous. Simply slow down your speaking in comparison to what your natural, real speed would be.
Does it seem too good to be true? Give it a shot. Don't be surprised if he pounces on you and showers you with all the physical attention he can muster.
Invite him into his senses
One of the most valuable gifts the feminine can bestow to the masculine is the invitation to return to the domain of the senses.
Let's say he's rattling off numbers, goals, and facts and figures to you (maybe over a home cooked meal you prepared for him), and you get the impression he's locked in his brain and not paying attention to you.
You can calm him down by giving him a bite of the food you prepared and saying, "Mmmmm… have you tried this?" It's incredibly invigorating! "Doesn't it just make your mouth dance?" Alternatively, you may get up, walk over to him, and kiss him on the cheek. Or, for a little while, stroking his shoulders.
Life is reminded to the masculine by the feminine. It reminds the man that life is happening right now… not some distant time in the future when objectives and achievements are attained. But today, right now, is a different story. Be a positive factor in his life who helps him reconnect with his body, and he'll start to identify his presence, groundedness, and connection to his body with your positive influence.
Compliment him
While most guys aren't motivated by praise, they do appreciate a sincere complement from their partner every now and then.
You'll want to compliment two things in particular (as long as these things are actually true for you).
To begin, compliment the aspects of his personality that you believe are most important to him. Second, you'll want to commend the areas in which you believe he lacks confidence. I'll provide examples of both of these concepts.
Let's say your man is very attached to the work he does in the world (not at all uncommon for a modern man). When was the last time you commended your partner on his professional accomplishments? Have you told him how appealing his enthusiasm is to you? If so, how long ago? Have you informed him that you admire his commitment to mastery in his professional life? Have you told him how much you like his enthusiasm when he talks about his job? Why not, if not? If these themes aren't readily available in your mind, set aside some time to think about what you perceive him as most identified with in his life, and then reflect back to him a compliment connected to those themes.
What aspects of your one-of-a-kind man's personality do you know he is particularly self-conscious about? Are you perplexed by any of those insecurities? For example, maybe your boyfriend is self-conscious about his body now that he's gained a few pounds, but you enjoy that he's not as slender as he once was. Tell him whether this is the case. Allow it to be known. Because your praise is touching on an emotional spot for him, he may try to fight your complement ('You're just saying that'), but keep going with the comment until you feel his position soften a little. Even if he only lets it in 10% of the time, your words are likely more meaningful to him than he can communicate to you right now.
Again, the genuineness of the compliment is paramount. Don't just say something because you think he'll like it.
Sit down and compose a list of the things you admire about him. Then, for a few months, make a concerted effort to bring one of those things to him once a week, and watch him gain confidence and a stronger bond with you.
Speak from your feelings instead of making demands
Now it's time for another winner. A relationship can be made or broken by the adoption or ignorance of this one simple (but crucial) communication shift.
What is one cultural cliché that guys in the mainstream media often rail against? They bemoan the fact that their partner is a nag. In this case, a nag is just someone who is demanding and/or makes a lot of requests of their partner… typically with a nasty tone to match their demands.
But here's the kicker: it's not so much that women are meant to be self-sufficient and never ask for anything (far from it)… it's how they ask that might degrade the relationship's quality. This is why.
In order to function properly, an intimate relationship requires a sense of polarity. In other words, it's ideal for one spouse to embody the masculine charge and the other partner to embody the feminine charge at all times. Again/as always, this has nothing to do with gender or orientation – at all.
When a woman demands that her boyfriend/husband take out the garbage, the problem isn't so much that she's asking for something to be done; it's that the method she's asking for it to be done is eliminating the polarity between them. That is the true problem.
Here are some examples of what most people do and what a better method to approach the same circumstance might be.
– Remarking ""Give me your coat," says the narrator. expressing ""Brrr… I'm cold" isn't one of them. The latter allows the man to reply to your comment by doing something about it that he has the authority to decide on.
– Inquiring, ""I'm hungry… why don't you make dinner for us anymore?" will eliminate polarity (being reprimanded, even subtly, is not appealing to anyone). Using the phrase, "Mmmm… I'm becoming hungry" is an invitation to which he can respond while retaining his polarity charge.
– Declaring, "When was the last time you made plans for us to have a date night? "It feels like it's been a long time…" will suffocate polarity. Using the phrase, "I'd love to do something exciting with you soon!" is an invitation for him to fill in the blanks and come up with a fun activity for the two of you to do.
The individual asking is speaking from their feelings (cold, hungry, desire for fun), rather than making straightforward demands, as seen in these cases.
Make your own pleasure and happiness a priority
Finally, there is nothing more appealing than a person who is overflowing with genuine delight.
If you've been stuck in a rut recently, it's common to have emotions of separation and unhappiness in your relationship. Unfortunately, there is only one way out: through. If you're feeling misaligned, stuck, or stagnant in your life, you'll have to put in the effort to get unstuck. Only you know where your true happiness can be found.
There is no greater gift you can offer yourself than to prioritize yourself in this way and set up your life so that you are bursting with delight (to yourself, and to your partner). While I disagree with the adage that a happy wife makes for a happy life (it smacks of codependency and emotional entanglement), there is something to be said for being in a relationship with someone who values themselves enough to put their own pleasure first.
Keep in mind that you and your partner are ultimately accountable for your own happiness. Your partner, like you, does not have the ability to read minds. You're in charge of meeting your own needs, and once you've done so, you may share your delight with the relationship as a gift.
Give him your full trust more often
If you constantly second-guess your boyfriend (in your brain or out loud), he will eventually sense it and begin to dislike you. The macho wants to be completely trusted. "The finest thing my wife could say to me is 'I trust you,'" one of my male customers remarked just last week. That means more to me from her nine times out of ten than I love you."
Give your partner the benefit of the doubt instead of challenging every decision he makes. Make educated guesses about how he navigates his life. But only if you have complete faith in the man you're with. If you don't trust him and have lost respect for him, that's an other conversation altogether (and you may need to have a difficult talk with him, or possibly even dissolve the partnership).
At different points in your relationship, try practicing complete trust with him.
– When he's driving the car in which you're riding shotgun, let go of all mental control over how he's driving or the path he's going. Drop into your full feminine flow and trust his manly direction.
– When you're making love and he's piercing your body, take a deep breath and take him all the way in. Allow his presence to pervade your entire being. Surrender completely to the present moment and trust in the way he wants to make love to you at that time. Your sexual and emotional connection will increase if you truly let go.
– When he cooks dinner for you, don't criticize what he chooses to make or how he prepares it. Trust that whatever he does comes from a place of love, and that he is giving it his all. He only wants to please you and serve your heart by filling it with love. Be confident in his approach to achieving that aim. Take a deep breath and soften back into trust if your mind starts to backslide into judgment, fear, control, or anxiety.
The ego craves power. Control is something that the mind craves. The heart, however, is an exception. The heart has no concept of control. It has complete faith in you. It is completely devoted to love.
So take a break from being on guard all of the time… from judging and attempting to control the situation… and tune in to your heart. Trust your man completely in moments of your choice, and he'll be inspired to act more like your king.
Get in touch with your feminine energy
By embracing your feminine aliveness, you become more appealing to your mate. Increasing the luminosity of your inner self. Getting in touch with your own heart and allowing it to come through in how you live your life and, by extension, how you show up in your relationship.
But, especially if you have pre-existing blockages to entering into the fullness of your feminine heart, this isn't always a simple thing to do.
For a variety of reasons, connecting with your feminine energy might be challenging for some women.
– You haven't dealt with an unresolved emotional wound with your mother (and you swore to never be like her in X, Y, and Z ways).
– Perhaps you turned off your feminine energy because it wasn't safe for you to be radiant at one point in your life.
– Perhaps you were reared in a patriarchal environment that valued male energy (be productive, get to the point, put on a suit, and put joy last), and you depended on your archetypically masculine tendencies to fit in.
In a nutshell, you should cultivate your relationship with your inner feminine. Make your body move. Wear clothes that make you feel lovely. Make room in your life for fun and lightness. Allow yourself to be receptive in various aspects of your life (gifts, massages, meals, people holding space for you, etc.).
Alternatively, if connecting to your inner feminine doesn't look anything like the above list, trust your instincts and do what feels right for you.
Initiate
The majority of males enjoy being the ones to start things. Date evenings, sex, and adventures are all on the menu. However, having this burden placed directly on their shoulders can become tedious with time.
So, if you want to be the fire starter in your relationship, put in part of the effort and initiate sex/plans/date evenings once in a while.
In certain relationships, the woman has a higher libido and is used to initiating the connection. If this is the case, this point will be less relevant to you. In fact, you should definitely lean back and allow your spouse more opportunities to begin with you.
However, in many relationships (at least the ones with which I work), the males are the ones who initiate the majority of sexual interactions.
The goal of choosing to initiate more isn't to swing the pendulum to the other extreme and be the aggressor in all of your future sexual experiences. In that situation, you'd take on more of the masculine polarity, which might quickly depolarize your relationship.
Swinging the pendulum to the point where you initiate 100% of sexual encounters isn't ideal, but neither is 0%. Try feeling what 10-20 percent feels like if you're more on the 0 percent side of the spectrum. Continue if your companion replies positively.
He'll be grateful for the chance to have you assist him… ease his weight (I had to).
Invest in your hygiene
While I don't want this to become a Cosmo-style "Look super lovely for him 24/7 OMG LOL" fluff post, cleanliness is crucial for everyone in a relationship. But it's not just because it's simpler and more pleasant to look at and be near a buffed-up, nice-smelling person; it's also because investing in personal hygiene says something about your relationship with yourself.
Putting effort into your hygiene demonstrates that you are concerned about yourself. You value yourself enough to devote time and effort to maintaining your physical well-being. And that you're doing these things to honor your relationship with yourself and with the other person.
You can transform an unkempt appearance into an appealing, pleasant smelling, great to touch exterior with 5-10 minutes of daily upkeep, just as you can turn a messy bedroom into a tidy one with 5-10 minutes of daily upkeep.
It's much easier to identify as our body while we're young. These attachments (to being recognized 'as' our bodies) tend to diminish as we become older. This is a blessing in many ways. We can finally let go of the tension and self-obsession that comes from continually worrying about our appearance.
But don't allow your relationship deteriorate to the point where you neglect your body and beauty.
Here are a few brief pointers to think about:
Groom your body on a daily basis by showering, bathing, and doing your basic grooming. Sure, skip a day or two when it makes sense. However, as a general rule, treat your daily laundry as non-negotiable as feeding yourself.
Find/choose/wear a characteristic smell that you and your lover both enjoy. You often get what you pay for when it comes to perfumes and colognes. When compared to most $200-300 bottles, most $20 fragrances aren't as nice to smell (or as healthy for your body to wear). Individual preferences will differ when it comes to grooming and hygiene, so choose what you (and your spouse) like the most.
Eat a well-balanced diet that includes plenty of veggies and healthy foods. If you eat a diet high in processed foods, you'll notice a difference in how you smell every day. What you eat determines who you are. Don't consume crap (unless you want to look and smell like junk at some point).
Make an investment in your dental health. Brush twice a day (properly) and floss once a day. Professional deep cleanings at the dentist are recommended every 6-12 months. Nobody wants to have a sexual relationship with someone who has poor oral hygiene. Nothing beats making out with someone you care about who looks after themselves from head to toe.
You know that feeling of overpowering confidence you get when you get dressed up for a special night out? Maybe it takes you two hours total to get ready to that point. What would a scaled-down, 10-to-20-minute version of that look like, and how might you apply it to your life on a regular basis? Make a decision, make it a priority, and do it as often as you can. You'll have a lot more confidence in yourself, and your partner will benefit (and appreciate) your efforts as well.
Adorn yourself
When was the last time you revamped your wardrobe? Or perhaps you invested in a new piece of jewelry that you adore? How much delight do you get from the things you put on your body on a daily basis?
It's a sad state of affairs if you've covered your body in sweatpants and ragged t-shirts for the past year and haven't worn any make-up. Again, not because "you are a woman and hence must wear make-up to pay rent in order to exist in the world," but because you deserve to look and feel wonderful by your own standards. I'd say the same thing to a man who hadn't gotten a haircut in over a decade and hadn't worn a suit. It feels wonderful to look good, as vain as it may feel to admit it.
However, it must begin with your relationship with the ornament. First and foremost, do it for yourself. Find apparel, make-up, jewelry, perfume, and other items that make you happy. The joy will then ooze out of your beingness, and he will be able to sense it.
How To Be More Attractive To Your Man
That's all there is to it. Slow down/expand your speech on occasion, invite him into his senses, compliment him, speak to him from your feelings, prioritize your pleasure, trust him more fully, connect with your feminine energy, initiate on occasion, invest in your hygiene, and adorn yourself in a way that makes you feel more beautiful and alive.
Try out a few of these ideas to see which ones appeal to you the most, and watch your relationship blossom virtually overnight.
Also, don't use all of these suggestions at the same time. If you implement all of these suggestions with your partner in the next week, he will most likely get overwhelmed. It's simple. Introduce one or two to begin with, then see how he reacts before moving on.
What are the 3 most important things in a marriage?
With so many variables and the complexity of human emotion on full show, marriage has long been seen as a subject worthy of the awe and dread reserved for Jackson Pollock's paintings. Though they may appear to be identical on the surface, no two persons are same, making the marriage of two souls a delicate game.
But what if that's not the case? "Is it possible that "the game" isn't as complicated as its reputation suggests? Perhaps marriage is more of a science than an art. That appears to be the implication of a recent Cornell University study.
According to the research, there has been new research into "Despite the numerous factors that exist in every relationship, "happy marriages" demonstrates that there appear to be a few distinct features found in the majority of successful marriages. The study's press release even goes so far as to assert a "When it comes to marriage, there is a "recipe" for success.
To gain a better understanding, "Researchers polled nearly 400 Americans who had been in a romantic relationship for at least 30 years. All of the participants were over the age of 65. The Cornell Marriage Advice Project was born out of the researchers' inquiries into what makes a relationship last.
Three primary topics emerged from the research: communication, knowledge, and commitment.
Communication, according to the study, is essential for any relationship to last. The vast majority of individuals polled stated that they feel "The majority of marital difficulties can be remedied via open conversation, and many couples who divorce blame lack of communication."
As I wrote in February, effective communication can help to calm the waves of disagreements that inevitably emerge in any relationship.
"Just keep yapping at each other," one of the respondents allegedly advised the researchers. "You're just two dead ducks if you can't communicate."
Marriage necessitates a great deal of knowledge. For example, creating a successful life together requires an understanding of what lies ahead for you and your partner. According to the survey, one of the most crucial sorts of information is an intimate grasp of the person you'll be marrying. Compatibility can be determined by how they think, what they love, and what they desire from life. That's why knowing exactly who you're marrying is so crucial.
Those who want to have a happy marriage should do the following ""They should wait to marry until they have spent time getting to know their partner and sharing a variety of shared experiences," the researchers summarized the comments.
""Their biggest advise is to marry someone who is similar to you in general," they explained elsewhere. "Marriage is difficult for everyone, but it's made a lot simpler when you're married to someone who shares your hobbies, background, and orientation."
It's no secret that, despite recent declines, high divorce rates remain a major topic of discussion in the public sphere. While there is no guaranteed technique to prevent divorce, the researchers discovered that those in happy marriages believe marriage is as much a state of mind as anything else.
"Rather than viewing marriage as a consensual union that lasts just as long as the passion," the researchers discovered, "the elders suggest a perspective in which marriage is a meaningful commitment to be respected, even if things go wrong in the short term."
"One of the researchers discovered that "they perceive marriage as a discipline." ""It's like becoming a musician or an athlete: you never reach perfection, you're always growing, and you forgo immediate gratification for something more satisfying later."
But, in the end, one of the most profound truths the researchers gleaned from the elders' knowledge was that marriage is definitely worthwhile.
""It's a transcendent experience," they stated. "A bond with another individual that is unlike any other."
Date him for who he is, not for his potential.
Everyone wants to be liked and accepted for who they are, but many women make the mistake of dating a man for his potential, or the man he could be in five years (with your help, of course).
Men, on the other hand, aren't projects. When you expect a man to change, he perceives that you aren't recognizing him for who he is. It may make some guys feel ashamed, as if they aren't good enough. If a man feels this way in the start of a relationship, he'll most likely become worried and end the connection.
When I've asked happily married guys what about their wives made them think, "Yes, she's the one," they frequently say, "She never attempted to change me."
Know what you're searching for in a man and look for someone that fits the bill.
Create emotional safety for him.
Emotional safety refers to a place where people can freely express their views, feelings, and wishes without fear of being judged.
When males claim a woman is easy to talk to, they're referring to the fact that they can say things to her that they wouldn't say to anybody else since they won't be criticized.
Listen to your man without passing judgment the next time he's having a difficult day, moaning about a colleague, or telling you something personal. Understand when to solve a problem, when to provide assistance, and when to just listen. People don't always want their problems solved; they simply want someone to listen to them out and feel safe with you.
Keep things light and playful.
People will remember you based on your shared experiences. The more pleasant and enjoyable experiences you share, the more those sensations get associated with you.
Relationship timelines varies between men and women. Women are more likely to rush into partnerships, anxious to define their status and skip over many of the pleasurable aspects of dating, whereas males are more likely to take their time deciding whether or not they want to pursue the relationship further.
Because you're still dating a guy, even if he really, really likes you, it's crucial to keep the beginning of a relationship light and playful.
Be vulnerable.
Dropping your guard and revealing your vulnerability is the quickest method to develop emotional intimacy with someone. When you show someone an unedited version of yourself, you're essentially handing them the key to your entire life, and that's a significant responsibility.
Consider how you'd feel if you'd earned someone's trust in that way. Isn't it incredible?
When you expose your vulnerability to others, you create an emotional safe space for a male to do the same.
How can I make my husband love me madly?
So you're worried that your husband is losing interest in you and want to know what you can do about it.
Look, we all have difficult times in our relationships. Our marriages will inevitably become stale at times, and it may feel as though your husband is falling in love with you.
There are several things you may do to rekindle your enthusiasm and correct the problem.
Believe me when I say that many married women have been in similar situations and have effectively turned the love needle in their favor.
It's a lot easier to make your husband fall in love with you all over again if you grasp male psychology and what makes guys tick.
I'll go over everything that has worked for me and my clients in reigniting the flame in their relationship in this article.
Remember, if thousands of other women have done it, there's no reason you can't.
What words attract a man?
A new study reveals the words and phrases that are most likely to help singles find love online.
The words 'ambitious,' 'perceptive,' and'sweet' are the most likely to draw male attention.
The words'spiritual' and 'peaceful' are the least likely to entice males to click.
Overall, the phrase "physically fit" is the most attractive to women.
electronic mail
According to studies, using specific terms in a dating profile can increase the amount of communication received from possible partners.
According to a new study, men like 'ambitious' women and women want 'intellectual' men, but 'funny' is a turn-off in the new vocabulary of love.
The studies found that the words 'ambitious,' 'perceptive,"sweet,' 'hard working,' and 'thoughtful' are the ones most likely to attract male attention on dating services.
Copy and paste the URL into your message
'Ambitious, insightful, sweet, hardworking, and thoughtful' are the descriptions most likely to attract males, according to a new study into the words most likely to help singletons meet a spouse on dating sites.
What makes a great wife?
More than just wanting to be a good wife, it's also important to have excellent personal qualities that will reflect in your function as a wife. These characteristics will keep all of your family relationships healthy and balanced.
However, if you're not sure what to look for in a good wife, here are 20 qualities of a good wife to guide you in your search:
Caring and compassionate
A good wife is caring and compassionate. She is considerate of the family's requirements and goes out of her way to find a solution. She recognizes when her husband is upset and makes an effort to make him happy.
Her loving nature ensures that the family is well-provided for in all areas.
Sensitive of the little things
For example, if her husband does something seemingly little, she does not dismiss it. She, on the other hand, warms up to him and appreciates him. On the other side, if her spouse is upset about something in the house, she would do everything she can to make it better.
Spends quality time with her husband
Regardless of how hectic her schedule is, the excellent wife finds time to spend with her spouse.
Some women make reasons such as a hectic schedule to avoid spending time with their husbands. A good woman recognizes that spending quality time together keeps the marriage alive.
Encourages her husband
One of the most significant roles a woman plays in a man's life is to provide encouragement and support.
One of the attributes of a good wife is to encourage and show her husband that he is loved in both good and difficult times. When men face difficulties, they lose sight of their worth.
Respects her husband
Respect is essential for a happy marriage. If you're looking for qualities to look for in a wife, make sure she's courteous.
Furthermore, a good wife recognizes and appreciates her husband's efforts, and the husband responds with respect and affection.
Puts her family first
If you're wondering what qualities to look for in a wife, remember that a good wife prioritizes her family.
She makes no apologies for prioritizing the needs and wants of her family. A good wife goes above and beyond to make her home comfortable for her husband and children.
Husband's best friend and lover
She may also have close pals, but her husband is still her dearest friend. If she has any concerns, she initially consults her spouse, who also happens to be her best friend.
A good problem-solver
One of the attributes to look for in a wonderful wife is her willingness and aptitude to solve difficulties.
A good wife does not delegate all of her issues on her husband or throw accusing fingers at others. Instead, she collaborates with her husband to address these issues.
Treasures teamwork
The ability to interact and engage as an active team member is what distinguishes a good wife. She never leaves her husband to deal with a problem on his own.
Rather, she fulfills her quota and appreciates her husband's efforts. When things are going well, a good woman understands that combined efforts keep the marriage intact.
Doesn't infringe on her husband's personal space
She accepts her husband's decision when she notices he needs some alone time. She is also precognitive, as she recognizes when it is appropriate to warm up to and cheer up her spouse.
She is romantic
When it comes to romance, a good wife understands how to incorporate it into her relationship.
She creates little surprises for her husband and does little things that take him off guard. She is aware of her husband's demands and uses this awareness to create romantic gestures.
Communicates effectively
When there are disagreements in the marriage, she prefers to keep the lines of communication open rather than remain mute. She keeps her husband guessing by laying out her thoughts and offering suggestions for how to proceed.
Brings out the best in her husband
A good wife's capacity to guarantee her husband reaches his full potential is one of her most significant qualities.
She gives her husband the dedication and encouragement he needs to succeed on the field. She is well aware of her family's power, and she exploits it to her husband's and family's benefit.
She gives a listening ear
One of the characteristics of a wonderful wife is her capacity to listen since she understands how important it is for efficient communication.
As a result, rather than merely listening, she listens to comprehend her husband. When her husband wants to talk to her about something, she puts all other things aside to focus on him.
Celebrates her husband's achievement
One of the characteristics of a good woman is that she does not view her husband's success as a means of competing. Rather, she recognizes and respects his efforts.
She is honest
Honesty and excellent communication are the foundations of long-lasting marriages. Being honest has a twist: you don't have to speak everything out loud. If you don't like his shoes, for example, you can change them with new ones.
Creative in bed
In fact, for some men, it is one of the most crucial characteristics of a decent wife. A good wife conducts her homework on how to make her husband happy in bed. As a result, he doesn't glance out the window.
If her husband prefers a particular sex technique, she masters it and provides him with the best in bed experience possible.
Her spiritual life is top-notch
A good wife values her spiritual life because she understands how important it is to her husband and family. She meditates on a regular basis and prays for her spouse and home.
She also makes sure her husband is spiritually well since it strengthens their faith tie.
Remains positive for her husband and home
When circumstances in the home are looking grim, a good woman understands that she must have a positive attitude in order for the atmosphere to remain calm.
She not only maintains a happy attitude, but she also keeps the house in good order, even when things are difficult.
What makes a man happy in marriage?
Many a young man's thoughts have moved to thoughts of love this spring. But what does a man need to be happy in a marriage once the vows have been exchanged?
Two new books about guys and marriage provide some surprising insights as wedding season unofficially kicks out this June.
Author Neil Chethik collated data from a countrywide survey of nearly 300 husbands and in-depth interviews with 70 other married men for his book "VoiceMale: What Husbands Really Think About Their Marriages, Their Wives, Sex, Housework, and Commitment."
He claims that women are unaware that being married in the first place is a big gesture of love for men, and that they want this to be recognized.
Chethik explained, "Simply being in a relationship and being devoted to it, just turning up every day is a statement of love."
Psychiatrist Scott Haltzman, who based his book "The Secrets of Happily Married Males: Eight Ways to Win Your Wife's Heart Forever" on his experience as a marriage counselor, makes a similar discovery: men have a remarkably strong sense of commitment.
"It is taken quite seriously by them. They have a strong desire to be a hero. And it's crucial for a man to know that he's making a positive difference in your life "he stated
It also helps if you let your husband know that he's making a difference. Why? Because he'll feel like he's accomplished something in his duty as a husband, and he'll be able to relax about some of the things you require.
While it may sound like a worn old cliché, both authors openly admit that a good marriage still needs commitment and effort.
"A rule book isn't included with your wedding band. Women should not presume that males are aware of the marriage regulations "Chethik said.
To put it another way, wives, let go of your preconceived notions and listen to what your husband has to say.
Allison Cheston, a mother of two who works in marketing, found the authors' views on appreciation to be insightful.
Cheston claims that her husband's need to be acknowledged has proven to be more significant than she expected during the course of their 16-year marriage.
"To remember why you love each other and why you got together in the first place, take time to celebrate everything you can, and to spend time alone," she said.
She admits that, in the midst of a busy life, she isn't always as conscious of giving praise and appreciation as she would like to be.
"What I've discovered is that making it a priority pays off. Men are far more straightforward than women; dealing with them involves much more evident cause and effect. Unlike women, there are relatively few hidden objectives "she stated
"When you realize that, it simplifies your conversation," she continued, "although I must admit that for a long time, I didn't necessarily believe that."
Richard Pallotta, a software consultant and married father of two, is less convinced by the writers' recommendations.
"On a basic level, I agree," he replied, "but most guys I know are capable of functioning above the level of early Neanderthals and recognize it takes much more." "Some aspects of our relationships can be simple, but it doesn't mean we're primitive."
"We look at work as something we have to do sometimes," he says. "Why not do it and like it?" he asks.
What is the secret to a happy marriage?
Couples don't require more "nice" activities; rather, they require more stimulating activities in order to maintain the rush they experienced when they first fell in love.
The couples were tested again after 10 weeks to determine the quality of their relationships. Those who had gone on "exciting" date evenings reported much higher marital satisfaction than those who had gone on "nice" date nights… Protect your marriage by attempting new things and sharing fresh experiences with your partner on a regular basis. Make a list of your favorite things to do with your spouse, followed by a list of enjoyable things you'd like to try. Make a plan to do something new and different once a week to break up your routine.
How often should I sleep with my husband?
The true average for couples in committed relationships is a topic of debate among sex therapists. The frequency of the responses can vary from once a week to once a month! "I've always responded that there's no one right answer," Ian Kerner, PhD, stated when asked how he reacts to couples who ask him how often they should have sex.
Couples' relationships grow subject to rage, estrangement, adultery, and, eventually, divorce when they stop having sex.
After all, a couple's sex life is influenced by a variety of circumstances, including age, lifestyle, each partner's health and natural desire, and, of course, the overall quality of their relationship.
So, while there is no one-size-fits-all solution to the question of how often couples should have sex, I've recently become less ambiguous and recommend that couples strive to do it at least once a week." According to David Schnarch, PhD, who performed a research with over 20,000 couples, just 26% of couples have sex once a week, with the majority reporting sex only once or twice a month, or less!
However, according to a research published by The University of Chicago Press around ten years ago, married couples had sex about seven times a month, or roughly twice a week. In a third study, it was shown that out of 16,000 persons surveyed, the older participants had sex 2 to 3 times each month, while the younger ones indicated they had sex once a week.
How To Capture His Heart And Make Him Fall For You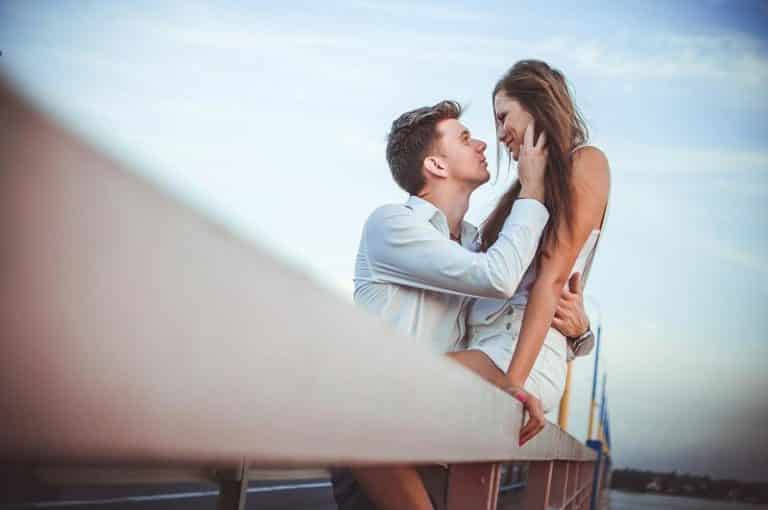 Here's what we've realized after so many years of experience as dating coaches:
It's really easy to make men fall for you once you know the "cheat code".
See, most women don't really know how men think, and why they act the way they do…
In fact, they go through their whole life never meeting the perfect guy who treats them right.
Don't let this be you!
We've taught thousands of girls around the world the special "cheat code" to a man's heart.
Once you learn the truth about how the male mind works, you can make any man fall in love with you.
Here's how it works:
There are special tricks you can use to target the "emotional triggers" inside his mind.
If you use them the right way, he will start to feel a deep desire for you, and forget about any other woman in his life…
The best part? These techniques are based on psychology, so they work on any man, no matter how old you are or what you look like.
To learn about these simple techniques, check out this free eBook NOW:
As women, we understand how you feel.
But no matter what other people say, always remember:
You are an AMAZING woman…
And you deserve an amazing man who loves you, respects you and treats you special.
So start using these special techniques today, and see how quickly men fall in love with you immediately!