We all know how important it is to have fun and memorable experiences when you're first dating someone…
But in a relationship, it's also a great idea to schedule regular date nights to keep the romance alive and remind yourselves why you're together in the first place.
The problem is: Planning these dates can take a lot of time and effort, no matter how new or old the relationship is.
Today, our team of dating and relationship experts will give you some wonderful recommendations for an incredible beach date.
There's nothing like dropping your worries, bathing in the warm sun on the beach, strolling down the boardwalk, and spending quality time with the man you love!
But if you want to have a beach date go perfectly, there are a few important things to keep in mind.
Here are some of our favourite romantic beach date tips, as well as some fun beach date ideas to surprise your sweetheart and spice things up!
If this is your first date, pay close attention since you don't want to ruin a beautiful time with a silly mistake and leave a bad impression on him.
Simply follow this guide, and you won't have to worry about anything!
The Top 10 Most Important Things For A Perfect Beach Date
Let's be honest here:
A day at the beach can require a lot of preparing. But make no mistake: If you do it right, the end result is SO worth it!
There can be a lot of things to worry about. From clothes and food, to weather and travel, it can get a bit overwhelming sometimes.
That's why we strongly recommend to think about these things ahead of time and have everything planned out.
This way, there will be no surprises once you arrive at the beach, and you can simply relax and enjoy your time with your loved one!
So break out your favorite bikini or swimsuit, and get ready to organize a beautiful date that you will both remember forever!
1. Bring These Items With You
Aside from your swimwear and sunscreen, there's a slew of other items you'll need to bring along in order to get the most out of your vacation. Consider this…
Your sweetheart and you, sitting next to the beach in a comfortable chair with a lovely blanket.
The waves are gently pounding on the coast, creating a soothing sound, and there is no one else around save you two.
You think this beautiful evening can't get much better until your partner turns around, looks you in the eyes, and places a warm, gentle kiss on your lips, making the moment even better than you could have imagined.
The atmosphere is perfect, your beach date could not have gone any better, and everything has been taken care of.
You can have it all if you remember to bring the following items with you for a stress-free, romantic evening that will be remembered for a long time.
Fancy some romantic, slow jams playing in the background as you stare into each other's eyes? A fully charged radio can be used to create just the ideal ambience.
A thermos to keep a warm drink of your lover's choice on hand at all times. Perfect for when the sun sets.
Foldable chairs that are easy to transport.
Blankets that are warm, especially if it gets cold after sunset.
Robes.
When your feet become tired of your shoes, slip into some comfy slippers.
An umbrella for the beach.
Sunglasses and sunscreen are a must – Always protect yourself from the sun.
Water! Be sure to stay hydrated at all times.
2. Look Up Any Attractions In The Area Beforehand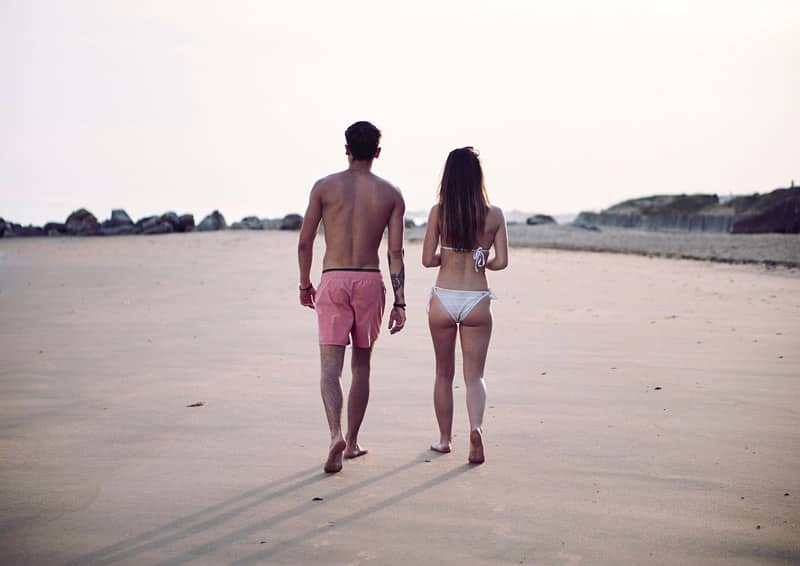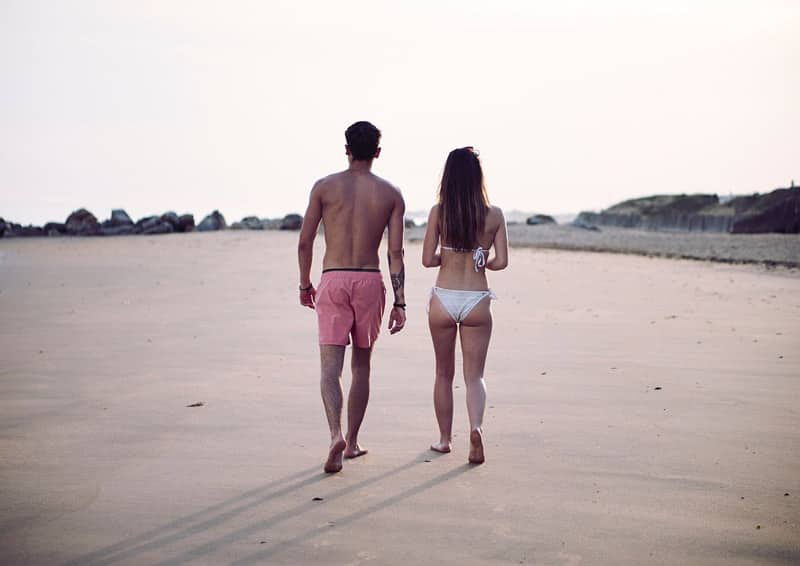 It's always a good idea to have a backup plan in case the weather throws a wrench in your plans.
I've had a few close calls with this, so I've now learnt my lesson and always keep an ace up my sleeve.
As you may know, the weather can completely change unexpectedly.
The sun may be beaming and the birds chirping one minute… And then it may be pouring like hell the next, forcing you to pack up and go before you become soaked.
Don't let your date get ruined like this!
To prevent this from happening, it's always helpful to look up any nearby attractions in order to save your romantic date and keep it continuing smoothly indoors!
As an example: There may be a fantastic aquarium nearby where you may witness all of nature's wonders in one spot.
It's a great way to spend the evening since you'll have a good time, see some new things, be amazed by the incredible water life, and stay dry too!
Or perhaps there is a cool restaurant nearby. You can easily turn your beach date into a romantic candlelit dinner if the weather does turn bad.
In any case, having all of the knowledge can help you think swiftly on your feet in the event of a rainstorm. You'll surprise and amaze your date too!
3. Renting Equipment
On most beaches, there will be stores that rent all sorts of fun and interesting gadgets and gear.
You'd be surprised at the variety of things available for rent, and they could elevate your entire day to a whole new level of fun and excitement.
For example, you might considering hiring a jet ski if you and your man are a pair of daredevils looking for some thrilling water fun!
If you prefer a more relaxing option, you may always rent beach chairs and floaties to enjoy some time away under the warm sun.
You might even find scuba and diving equipment are available for rent. What's more, many beach stores will offer all sorts of surfboards and boogie boards.
Depending on your particular beach, there may be more goodies available for rent, so it's well worth your time to look them up before your date so you can arrange your activities around what's available.
4. Watch Out For The Tide!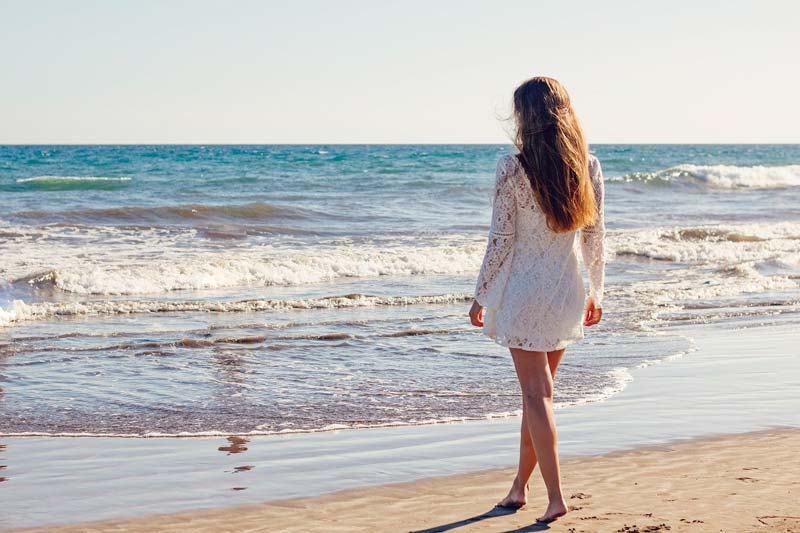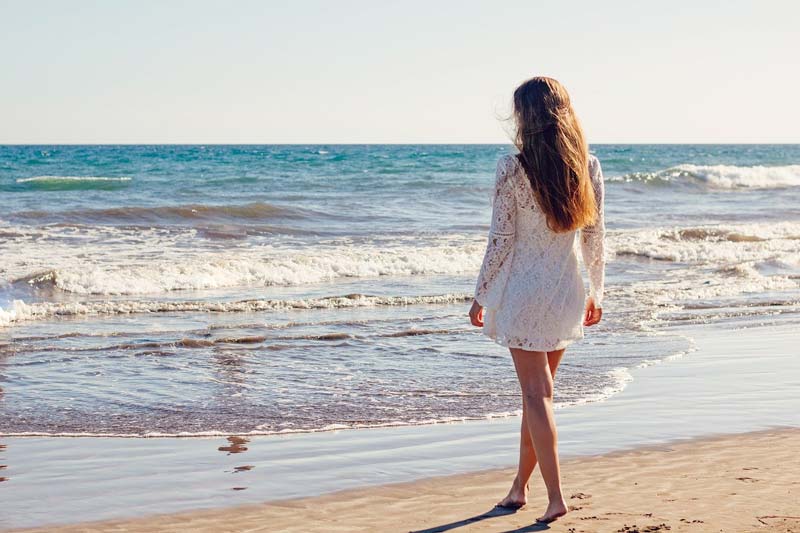 You might be a bit confused about this one. This might not even cross the mind of most people heading to the beach.
After all, the whole objective is to go to the beach, get soaked, and have a good time, right?
You'd be making a mistake, however, if you didn't check the tidal schedule first.
The views might start off pleasant and welcoming… Until you notice the water creeping closer to your chair, threatening to ruin your evening.
And before you know it, the tide has submerged most of the beach!
That is why you must learn about the tide schedule so that you may arrange your beach date correctly and arrive and depart at the appropriate times.
Also, check how strong the waves are projected to be on the day, and plan your date accordingly.
When it comes to planning a date with water, you can never be too cautious. You want to arrive at the ideal day and time, when there will be no unpleasant surprises to throw you off.
5. Think About Weather And Seasons…
Before you go on your beach date, make sure you know what the weather is like there and what to expect for the duration of your stay.
For example, evenings on the beach can get quite chilly depending on the season. As a result, it may be a good idea to pack some extra clothing and a warm blanket or two.
Its a lot more romantic sitting under a blanket with your date, watching the stars and not freezing your butts off!
Also, in some areas, you may have to share the beach with some critters and animal friends…
Look up the wildlife on your beach beforehand. If it happens to be turtle season, you may be surrounded by turtle eggs on the sand.
Depending on the season, you might also be spending some time close to seals and all sorts of other creatures.
On top of this, make sure you're aware of the rules regarding beach fires. While they may be romantic, not all beaches allow fires, so you don't want to get a citation and have to pay a fine.
Even if they do allow you to light a fire, you'll almost certainly need a permission, so make sure to obtain that first.
6. Be Mindful Of Allergies
Many people suffer from severe allergies, and even if you've been dating for a while, your loved one may not have brought them up to you.
The last thing you want is for a romantic beach date to be ruined by an unexpected allergy attack.
You don't want to discover that he's allergic to sand mites by watching him break out in a massive, red rash all over his body on what was intended to be a memorable day!
For one thing, it's incredibly uncomfortable and perhaps even life-threatening, so you should always try to avoid these situations.
On top of this, it will ruined your experience together! This is never a good thing for your relationship.
It's really easy to ask and check with your date about his allergies. But it's going to be a nightmare dealing with an allergy attack.
So plan ahead of time and watch out for any allergy risks. The health and well-being of both of you should always come first!
7. Avoid These Easy Mistakes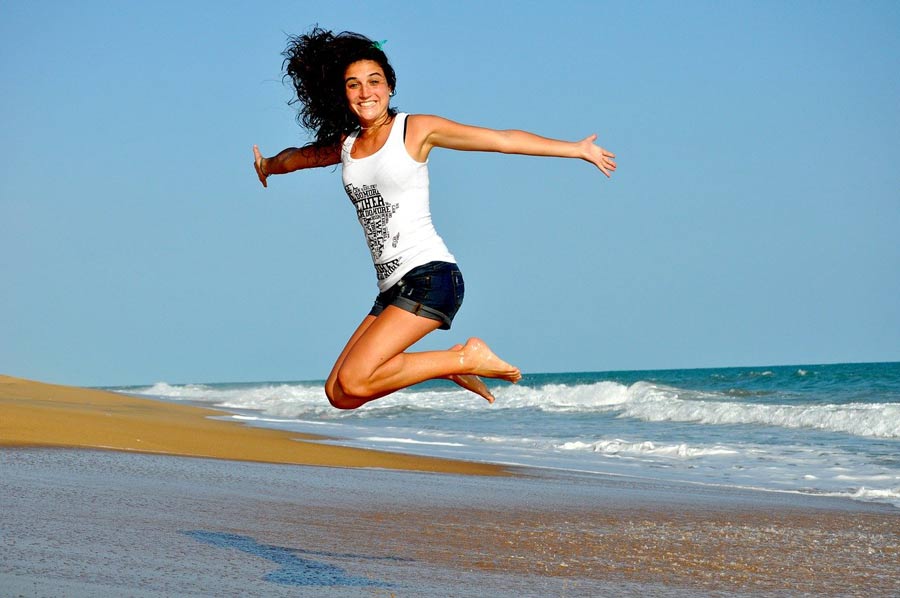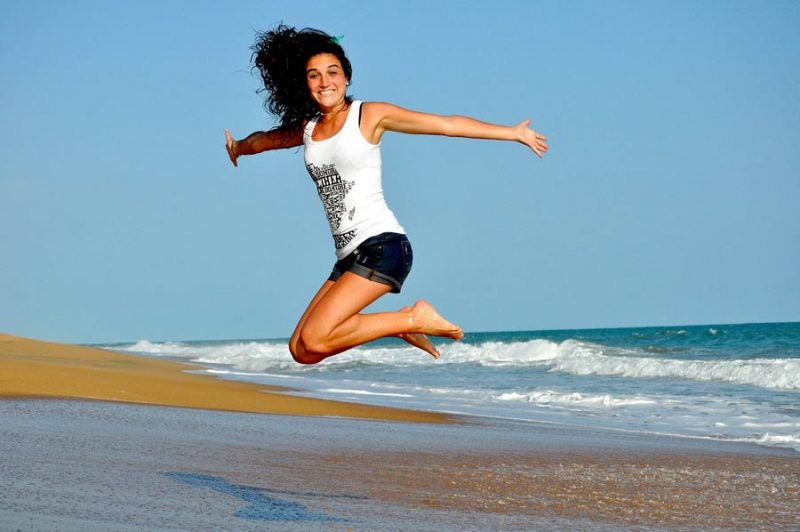 When it comes to beach dates, there are a few mistakes that can be easily avoided, yet people seem to keep forgetting about!
So before you set off on a romantic day out on the beach, bear these following tips in mind:
Things can get quite unpleasant if it gets windy. Make sure to pack a simple windbreaker in case it gets breezy, and make back-up plans if it becomes too hard to handle.
The sun can be your friend or your foe. It's nice to sit under it and bathe in its warmth… Until you end up with a painful burn!
You never want to be exposed to the sun without protection, so make sure to use sunscreen. Reapply it throughout the day on a regular basis. Trust us – You will not regret this!
Make sure you get plenty of water. It's critical to stay hydrated, especially if you're spending the day in the heat.
You may not feel thirsty at first. But once you do feel a thirst for water, your body is already dehydrated. This is never a good thing on a hot beach day.
Keep drinking water, especially if you've had anything alcoholic to drink. Dehydration can be an unexpected risk to your health.
Finally, take care of your belongings. Ideally, you should keep your keys and wallet locked up in a locker or kept in your car.
If both of these options aren't available, put them somewhere close where you won't forget about them, such as in a beach bag or your shoes. And don't leave these out of sight!
8. Follow The Rules Of Your Beach
Every beach has its own set of laws in place to make it safe, well-maintained, and welcoming for everyone.
So if you don't want to ruin your romantic date night, check and consider the rules of your beach beforehand. Here are a few common questions you might want to ask:
Are there certain rules on clothing and swimwear?

Is it permissible to let your dog off the leash, or should you constantly keep them on a short leash?

What are the rules regarding cleaning up after your dog?
Are there any warnings about the tides?
Are there lifeguards on standby? Where can you go in case of an emergency?
What are the open hours? For your own safety, you should not use a beach that isn't open to the public.
Are there certain items that are not permitted to be brought to the beach?
Are there rules about music and loud noises?
If you're driving, make sure you find out where you can park, and for how long.
9. Research Your Beach!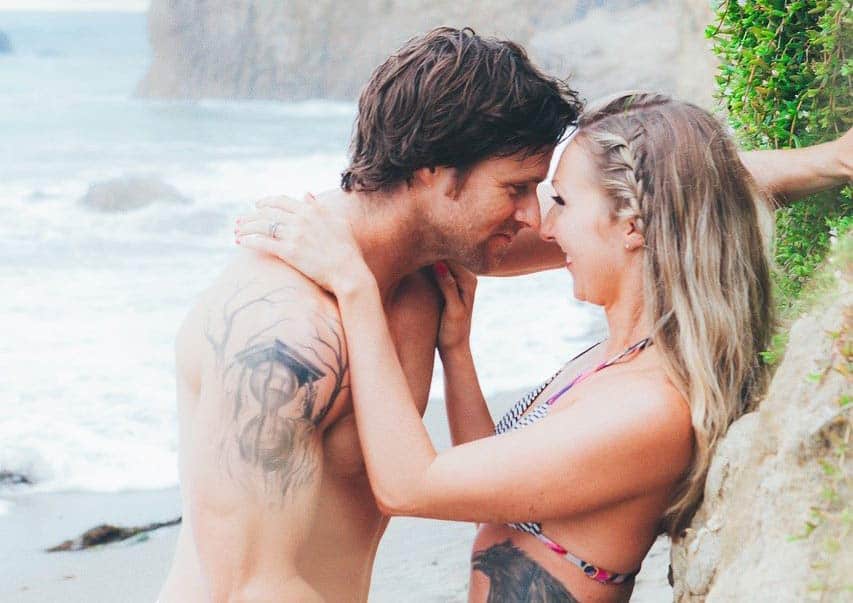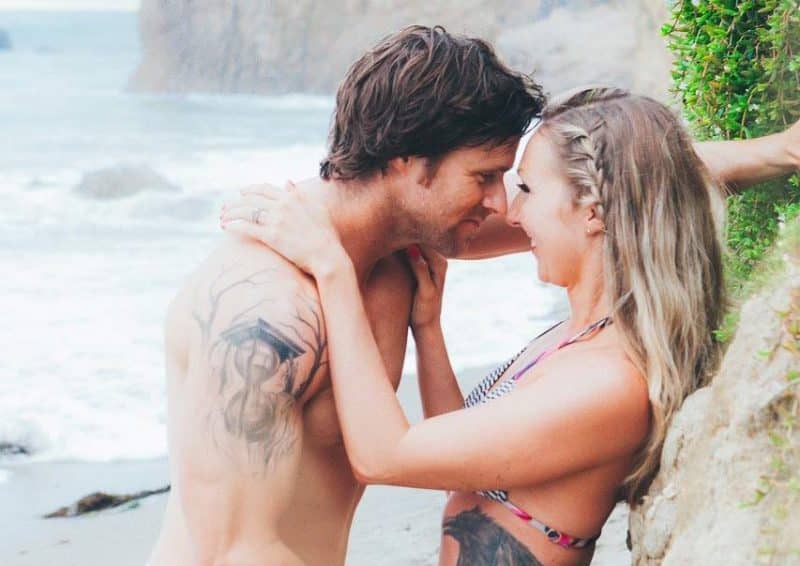 Once you've located your dream beach, it's a good idea to learn everything you can about it and organize your date around it.
This will make sure your date goes smoothly, and minimize the risk of anything bad happening. Here's a handy checklist for you:
Is there a bathroom at the beach? How much does it cost to use it?
Where can you go to wash off after playing around in the sand?
Is the beach available all day, or only during particular hours?
Where can you park? And for how long? How can you pay? And are there any alternative locations in case it gets packed?
What are other people are saying about the beach? Is it clean and safe?
Is there a local ATM? How much cash should you bring?
Where can you buy food and drinks, as well as sunscreen, if you forget to bring your own?
Is there a lifeguard on the premises?
Yes, this might seem like a lot to take in at first. But when you think about it, these are all important details to consider to ensure your beach date runs smoothly.
You don't want to arrive only to discover that there's no place to park, or no food or drink within a mile radius!
So remain on top of things at all times to ensure a pleasant and enjoyable romantic date.
10. Pack Your Clothing Carefully
It's a wonderful idea to be able to sit on the beach in your bikini, enjoying the sun without being worried by the weather…
But if you're not prepared, you'll be in deep trouble once the sun sets!
Bringing the right clothes to the beach will prepare you for any weather changes that may occur, and ensure you're ready for the whole day.
Always remember to bring a pair of flip-flops. For a while, walking barefoot is enjoyable, but there's always a chance that the sand gets too hot for your feet.
Bring a hooded jacket with you. It's not only stylish and nice on you, but it's also extremely practical for unpredictable weather!
Also, pack a pair of light and comfy pants or leggings. These will come in handy after a nice swim, as you can pop them on quite easily compared to jeans or trousers.
On top of this, loose T-shirts are perfect for the beach. Bring one or two that you can easily throw on after a swim and feel completely at ease in.
Hats and sunglasses are also a must. Not only are they a fashion statement, but they will also protect you from the sun.
Finally, one of the most useful things you can bring to a day at the beach is powder. This will help soothe any irritated or dry skin, as well as getting rid of excess moisture to get you in and out of clothes quicker.
A Few Final Words…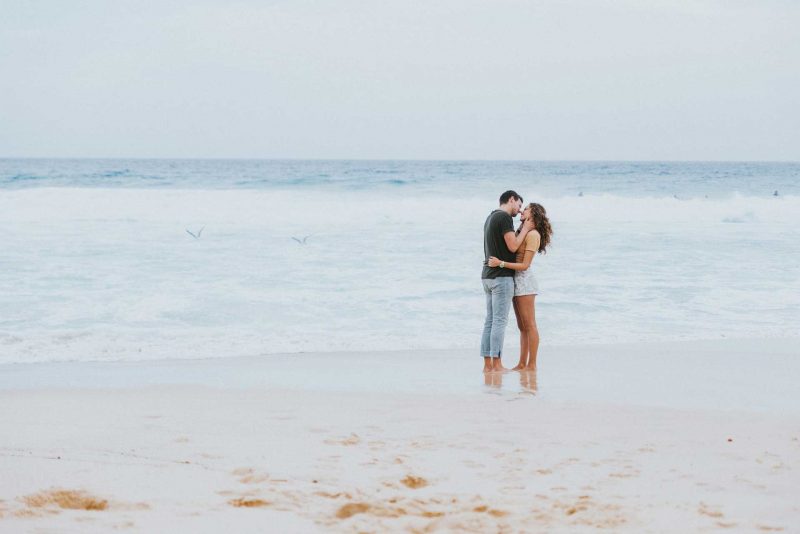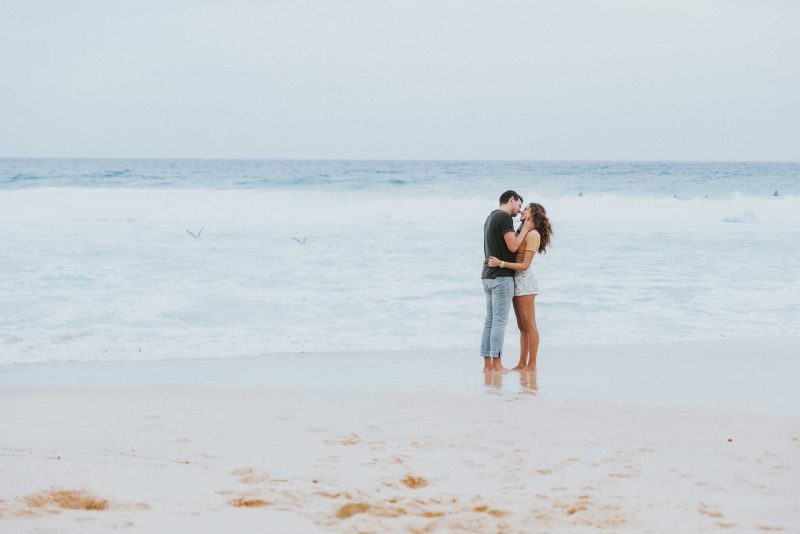 At the end of the day, a beach date is ultimately about having a good time!
Sure, there's a lot of things to think about and prepare for beforehand. But this is merely to ensure that you have the best date with the person you love.
It should not take away from the fun. It simply provides the assurance you need for a good beach date.
After all, you can make all the preparations you want, but it will all be for naught if you're with the wrong person.
So make sure you're preparing this special day for the right man, and don't let anything derail your plans.
Once all the preparation is done, you can drop your worries and focus on having a good time with your man! After all, he is the one who makes the entire beach date worthwhile.
How To Capture His Heart And Make Him Fall For You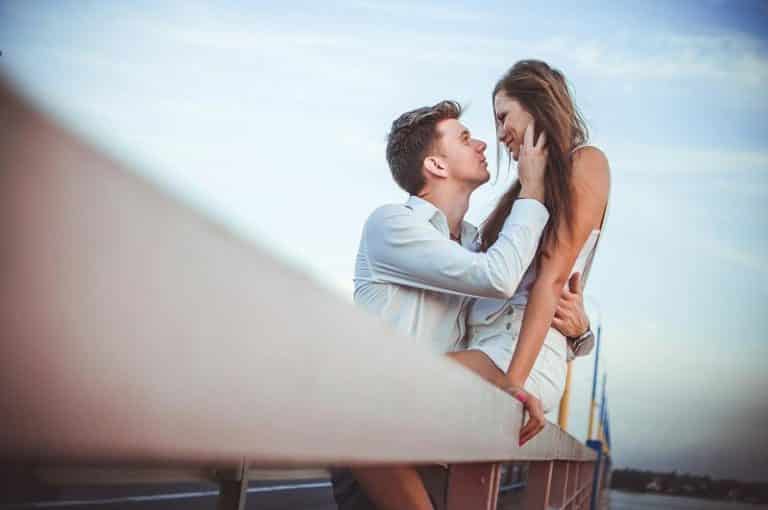 Here's what we've realized after so many years of experience as dating coaches:
It's really easy to make men fall for you once you know the "cheat code".
See, most women don't really know how men think, and why they act the way they do…
In fact, they go through their whole life never meeting the perfect guy who treats them right.
Don't let this be you!
We've taught thousands of girls around the world the special "cheat code" to a man's heart.
Once you learn the truth about how the male mind works, you can make any man fall in love with you.
Here's how it works:
There are special tricks you can use to target the "emotional triggers" inside his mind.
If you use them the right way, he will start to feel a deep desire for you, and forget about any other woman in his life…
The best part? These techniques are based on psychology, so they work on any man, no matter how old you are or what you look like.
To learn about these simple techniques, check out this free eBook NOW:
As women, we understand how you feel.
But no matter what other people say, always remember:
You are an AMAZING woman…
And you deserve an amazing man who loves you, respects you and treats you special.
So start using these special techniques today, and see how quickly men fall in love with you immediately!