You know what's really frustrating?
You start talking to this guy. It goes well, and he sets up a date with you…
But you don't know if he's going to flake on you…
Maybe he arranged a date with you, but you haven't heard from him since…
You don't know if you should text him, and you don't want to sound needy and annoying…
What should you do?
As dating coaches, we've seen this situation over and over again.
The feeling of anxiety before a date is actually very common.
After all, dating is about putting your heart out there.
That's why it sucks when a guy makes plans but doesn't follow through with you.
In this article, we'll make sure this never happens again.
We're going to show you 5 clever ways to confirm a date with a guy via text.
These texts allow you to confirm the date without asking him directly about it.
Later, you'll also learn when to text him to confirm the date, as well as what to do if he doesn't reply.
Should I Confirm A Date With A Guy?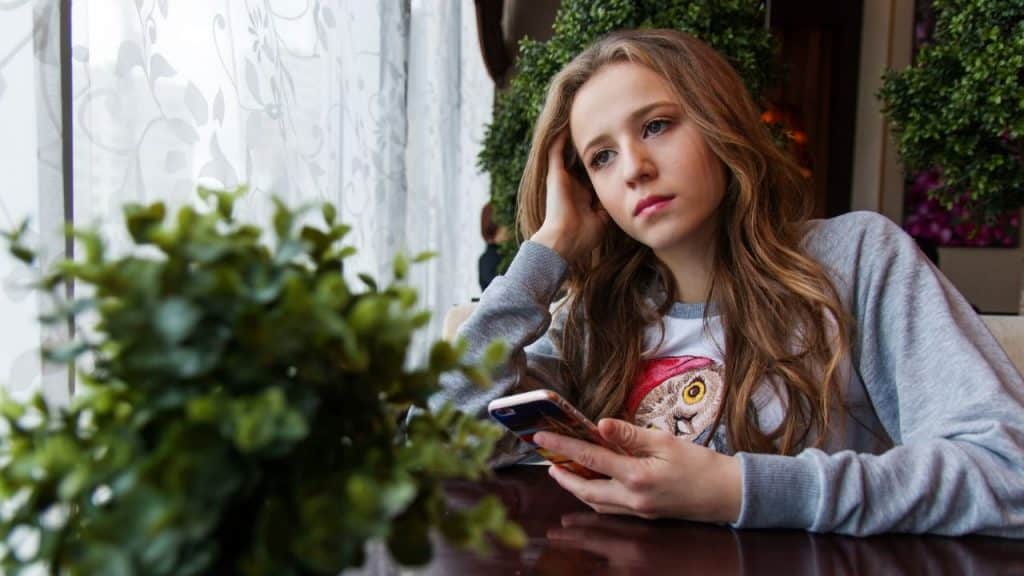 Many girls worry about what to say after setting up a date. Some women feel texting after setting up a date can be annoying for the guy…
There's two things you need to understand:
First, when a guy makes plans with you, it already shows he's interested.
As long as you text him the right way, he won't change his mind.
Second, you must have self-respect for your own time.
If a guy asks you out but flakes on you, he's wasting your time and emotional energy.
When you create boundaries, you will protect yourself from this.
You will also feel instantly more confident about the date.
In other words: Yes, you should ALWAYS confirm a date with a guy beforehand.
Checking in before a date ensures you don't waste an entire evening, especially on a guy who doesn't respect your time.
However, it is very important to do it the correct way so you don't come off as needy.
This starts with the timing of your pre date confirmation text…
When To Confirm A Date?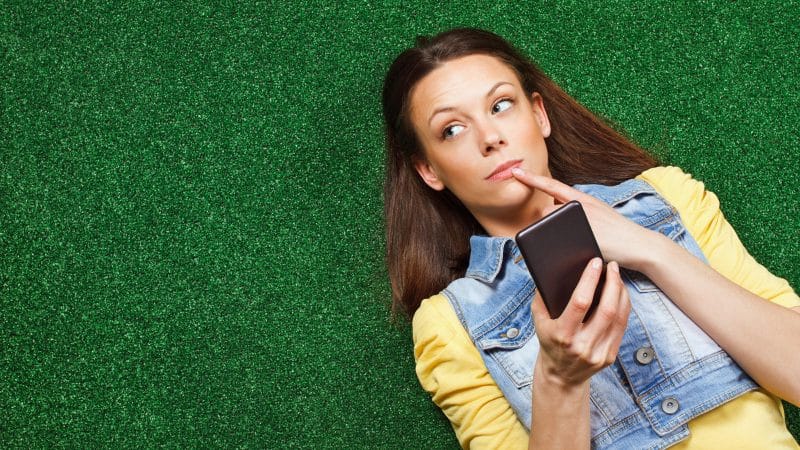 You should always confirm a date either the evening before, or the morning of the day of the date.
Doing it too early might sound like you're too eager or excited to see him, which might weird him out.
It also gives him a lot of time to flake even after he confirms the date with you.
On the other hand, doing it too late might mean he's already made other plans, leaving you stood up for the evening.
The perfect balance is to text him the night before, or the morning of the date. If the date was planned for the daytime, then send it the previous evening.
It's not a good idea to call to confirm your date. This can make things awkward, and put nervous vibes into your date.
Instead, leave a short text using one of the 5 ideas in the next section.
(Click here for a simple trick that will make him fall in love INSTANTLY on your date!)
Top 5 Ways To Confirm A Date With A Guy Via Text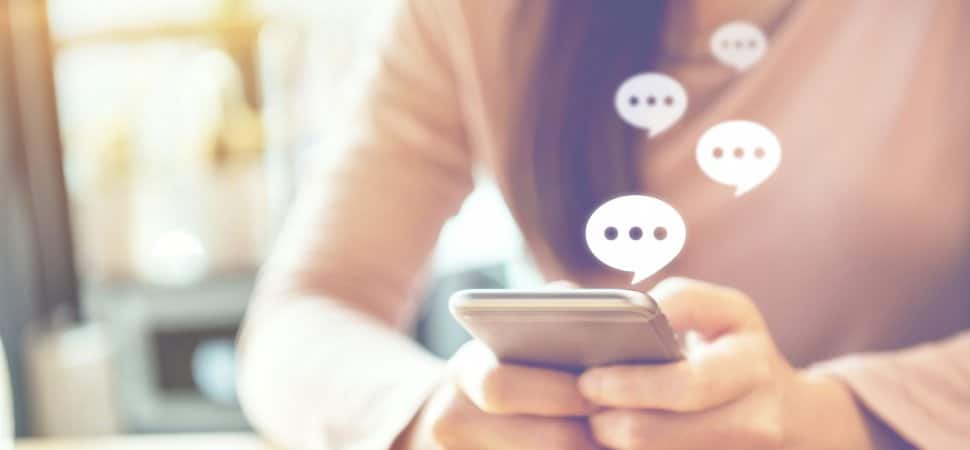 One of the biggest mistakes girls make is directly asking if he's still "good" or "interested" for the date.
This gives him the impression you have low confidence in yourself, and worry too much about keeping him interested.
The right way to send a confirmation text is to keep it short, sweet and low-key.
The key is to make it sound casual, even if you're excited about it.
You don't want him to feel like he's already won you before the date has even happened.
At the same time, you don't want to weird him out by texting him how much you're looking forward to the date.
Instead, use these 5 special texts to confirm the date with him.
Here's the great thing about these texts: You will know the date is confirmed when he answers, without asking him directly if the date is still on.
1. Send Him A Question About Logistics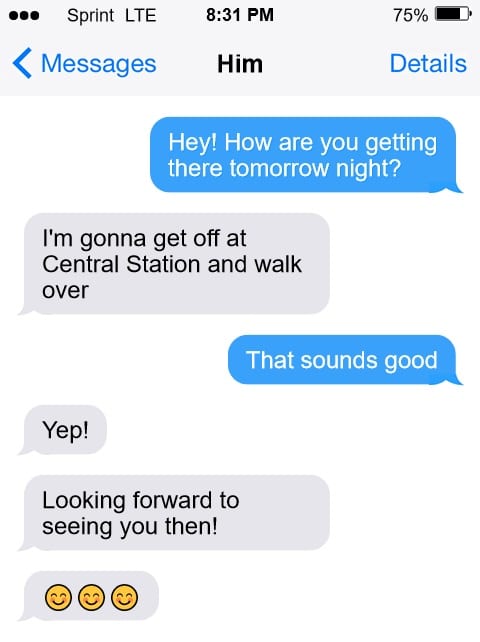 This is one of the smartest methods for confirming a date with a guy.
The text is simple: Ask him a question about the plans for the date.
It could be anything relating to the address, how to get there, or if there's a dress code.
This is also a chance for you to check how excited he is for the date, depending on how he replies.
In this example, you can tell from his text that he's definitely looking forward to the evening!
On the other hand if he flakes, this is when he will tell you.
2. Change The Meeting Time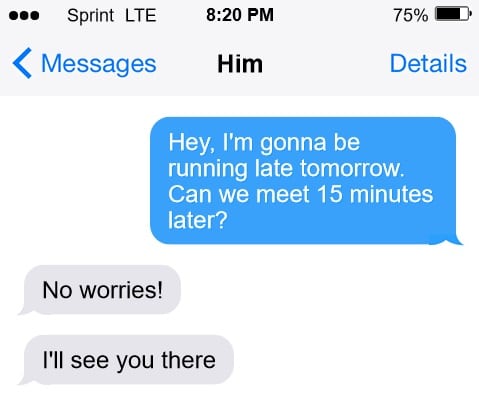 As the date approaches, send him a text and make a small change to the planned meeting time.
This should be a change small enough not to cancel the date for. Pushing it back 15 or 30 minutes is always a safe bet.
By doing this, you show him that you're interested, but he's not the only thing on your mind.
It also forces him to change his plans for you. On a psychological level, it puts him in charge of treating you right and showing you a good time.
This way, your date will go even better!
However, you should avoid this method if the date involves a booking at a set time, such as a concert or a fancy restaurant.
In this case, use the next technique to confirm the date instead…
3. Arrange An Earlier Meeting Spot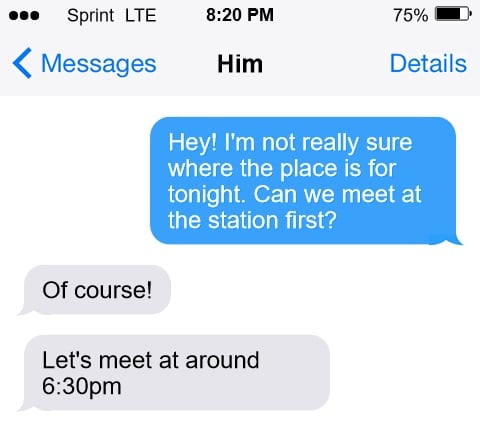 Often, it can be awkward walking into the venue of a date alone, waiting for him to show up…
This text solves this problem, while confirming the date at the same time.
Also, asking him to meet you earlier and show you the way switches on his "gentleman" side.
This makes him act kinder and more loving during the date. It's simple psychology!
(Check out this simple trick that makes him start chasing you non-stop!)
4. Blend It In Conversation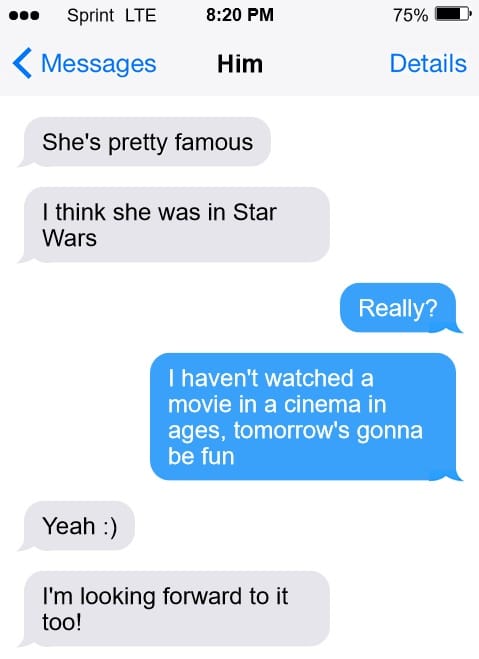 If you've been texting him before the date, simply mention the date during the chat.
The key is to make it sound natural. It's not the easiest method to pull off, but if you do it properly, it's also the most casual way to confirm the date.
5. Double-Check Something With Him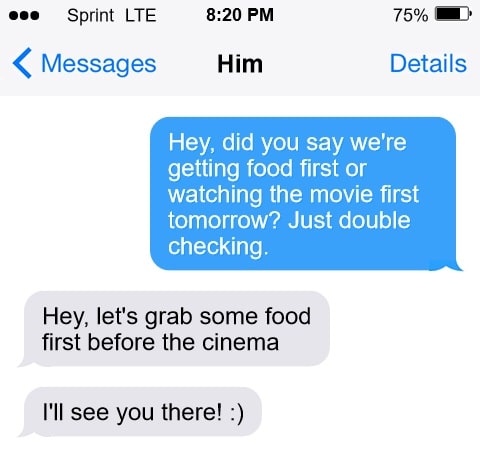 As a last resort, you can ask him about one specific detail about the date.
This is a rather direct approach, but if you have a strong feeling he's going to flake, this will put pressure on him to be honest with you.
What If He Doesn't Reply To Your Confirmation Text?
Let's say you send him one of the texts above, but he still hasn't replied to confirm the date…
What do you do now?
First, you should always have a deadline.
You don't have to tell him about it, but plan one for yourself. We recommend making it 4 hours before the date.
This allows you plenty of time to make plans if he flakes on you.
If he still hasn't replied by this time, send him the following text:
"Hey, I didn't hear back from you so I made other plans. I'll make it up to you next time!"
This text is full of positive energy, even though you might feel frustrated after being flaked on.
By keeping an upbeat vibe, you show the guy that it's no big deal, and you have other people to hang out with, and other fun things to do.
The last sentence also does something tricky.
By saying it's you who will make it up to him, you're positioning yourself as "the prize", and he has to work to win you over.
Right away, he will see you as a much more valuable girl. He will even start to feel like he "missed out" on you.
Whether or not he gets a second date is now in YOUR hands!
Make Him Fall In Love With This Clever Method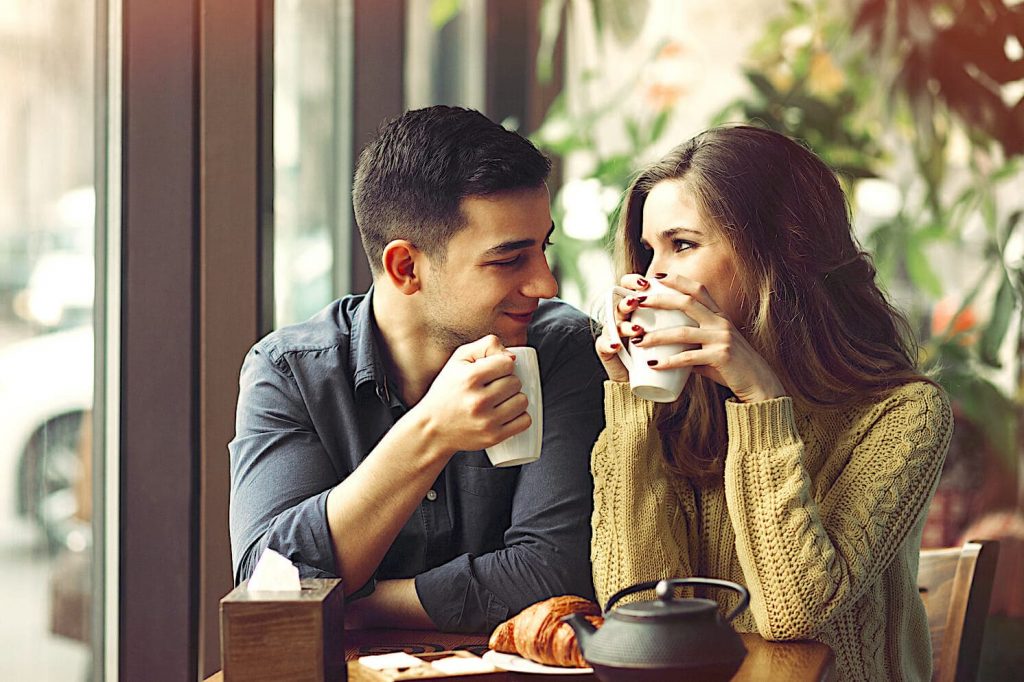 Now that you've learned the techniques for confirming a date with a guy, it's time to put them to use!
As dating coaches, we work with girls all the time, giving them clever techniques like these so they can date amazing guys who treat them like queens.
In fact, there are a few simple "hacks" you can use to make him fall in love with you within 10 minutes of your date!
Here's the secret:
There are certain "emotional triggers" you can target in a guy's mind.
For example, some words can give a guy deep emotions of love, while other words will push him away.
Once you learn the exact things to say and do on your date, he will suddenly start to catch feelings for you that he can't explain.
His focus will be fixed on you, and he won't be able to think of any other girl.
To find out about these clever techniques, check out the eBook below:
FREE GUIDE: Secrets For A Perfect First Date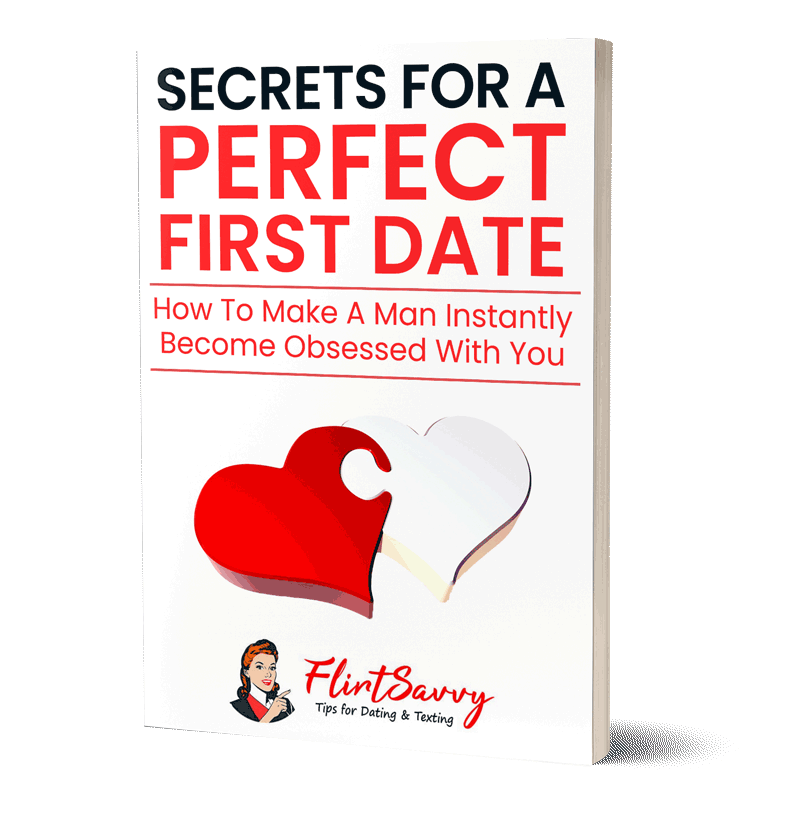 Use these special tips to make any man fall crazy in love with you, and instantly become 100% devoted to you!
The truth is, most girls never find out about these techniques.
That's why they always feel lonely, while other girls run off with amazing guys who cherish them and treat them like the most important person in the world…
The type of guys who love from deep within their hearts, hold you tight in their arms and completely devote themselves to you…
You can be next.
Get the free eBook now, and start using these techniques right away. You'll be surprised at how quickly your life will change!
FREE GUIDE: Secrets For A Perfect First Date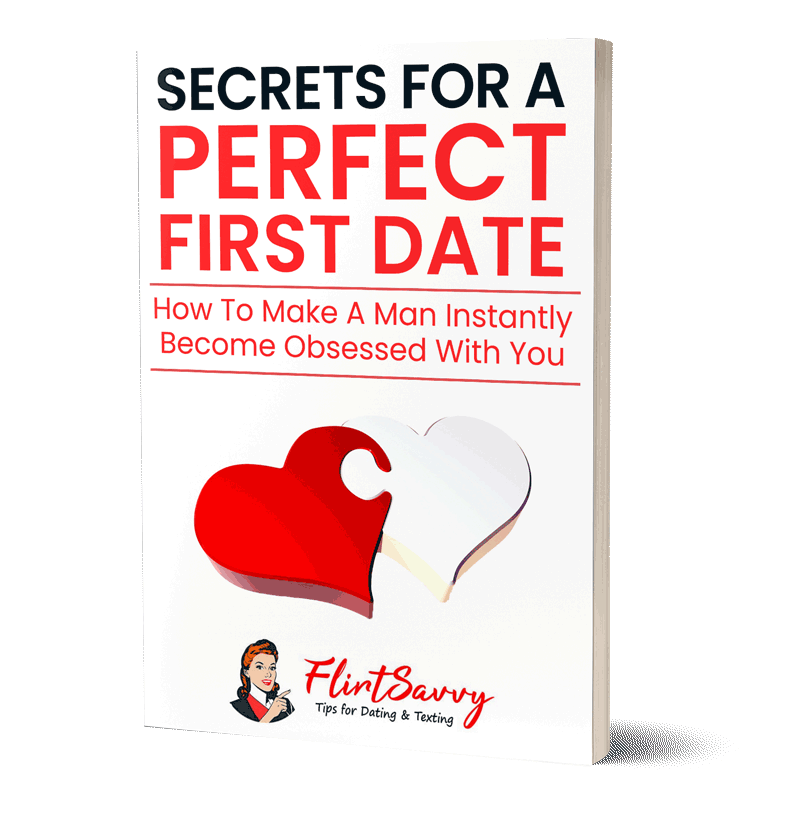 Use these special tips to make any man fall crazy in love with you, and instantly become 100% devoted to you!
---
More FlirtSavvy Articles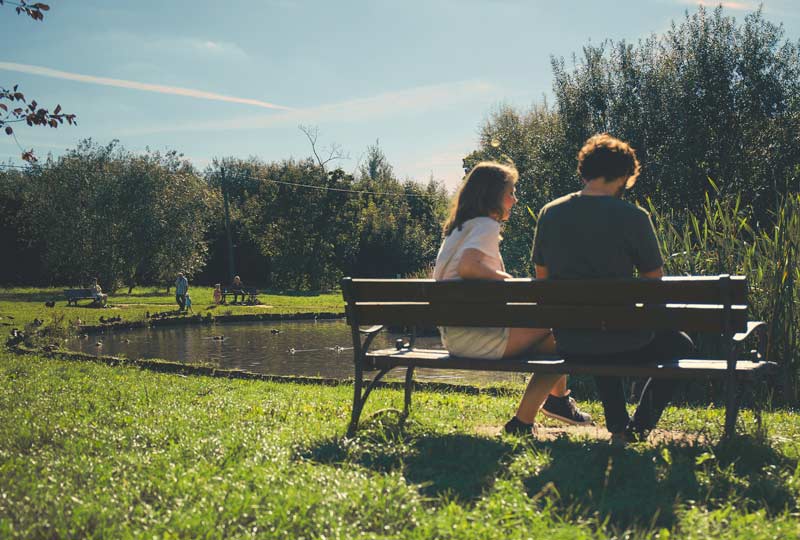 When your boyfriend is feeling down, it can be tough to know how to cheer him up. Maybe you're not physically together, or maybe you just don't know what to say. But did you know that a simple text message can make all the difference? In fact, studies have shown that receiving a supportive text can reduce stress levels and make someone feel more loved and cared for. So, if you're wondering how to cheer up your boyfriend through text,…